Paul Obazele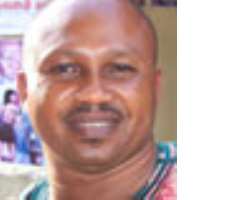 Paul Obazele started out as a model. He featured in television and print adverts for the big agencies and products. Then he added acting to the feathers in his cap. This, as is common in Nigeria, has prompted him to want to take more control. And today, he is a film producer, director and key union player, Paul Obazele, is one of the founding leaders of the many associations steering the Nigerian movie industry in the general direction of order and, perhaps, salvation. A known commodity in movies such as Wanted Alive, Walls Have Ears, Sisters On The Run, etc., his fan base continues to grow. He spoke with Naijarules.com editor, Sola Osofisan, on the grounds of The Film Cooperative of Nigeria in Surulere, Lagos.
Obazele (Pix: Sola Osofisan)
Sola Osofisan: If I remember right, you were working "exclusively" with Amaka Igwe. Do you still have that relationship?
Paul Obazele: We're still together. We still work together. But basically, one expands one's own horizon, you understand? As an artiste, I'm not supposed to be tied or trapped somewhere. Amaka Igwe, a great person, a great producer, a great director, somebody you'd want to… She has a wealth of experience of experience you'd want to tap from. I respect her opinions and views and her large heartedness.
But because of the quest of man, I had to break out because I had so many things in my mind, so many expressions I want to let out, so many things I want people to know. I had to expand.
S.O.: Can you tell us some of these things you've done in recent times?
P.O.: Well, I had to produce my own movies. I had to produce movies for people. I had to direct movies. Basically, I run away from those things, but I just found out that the only way I could make a change was to make a change in that mirror, so I looked at myself… I felt I had to make a change and I had to make changes. The only way I can make an impact is to produce films, actually bring out my own resources. When I found out that the thing was not going the way I wanted it, I decided to direct. Like we know in production, the director has the final say. I had to do those things and by God's grace, it actually paid off.
One of the jobs I directed and produced, Walls Have Ears… Maybe you heard abroad that the average Nigerian policeman was shooting (bus) conductors just because of 20 Naira. I shot the film a year before this rampage started and I remember when I went to the Censorship Board, they didn't find it funny. But I told them that it was what I'd seen and it was like a prediction and when it happened, I remember somebody writing me from the censorship board and saying, "are you a soothsayer?" He said it is happening. I said that's the creative mind working, because I've been able to run into situations where I see policemen at check points losing their cool and by the time you step in, because you're a known face, they won't shove you. The death of an average human being demoralizes me, so I don't stop at the shoving. I get involved personally. The people they're supposed to be protecting are the people they bully.
Today, Walls Have Ears is one of the biggest films I have produced and directed and I know what Infinity Merchants (a marketer) told me. He came back and he told me congratulations. It is rare for a marketer in Nigeria to come and tell you congratulations. He did and at the end of the day, he came in, sat down in my house and opened a bottle of Moet. That was a success story. My biggest regret was I sold the film outright. I was scared, you know. We got information that the film was to be impounded and he had to rush to release it and left the country immediately. He went to Netherlands to sit down. And I faced it. I was harassed by the police. I stood my grounds. I felt complete because the average artist is that one that makes an impact and the society reacts. The society reacted and I had to, like the lizard, beat my hand on my chest.
Paul Obazele (Pix: Sola Osofisan)
S.O.: Sounds like you're having a major adventure. Sounds like a movie itself. Paul, I remember you as a model. You transitioned into an actor, and now you're a movie producer, director. Apparently, you have been working towards getting into the position of power. What does it feel like to have all the power now?
P.O.: Oh my God! (GENERAL LAUGHTER). Power… I won't tell you that it is easy. I'm not finding it funny. You walked in here; you met me and the national president (of Actors' Guild of Nigeria, Zack Orji). I was summoned. And I hate taking decisions. This is about our third meeting today looking into activities of people, guilds. I've been involved in almost all the guilds. Right now, I happen to be the director, Guild Services, of CMPPN (Conference of Motion Pictures Practitioners of Nigeria). I'm like a liaison officer for all the guilds. We meet; we broker peace and all those things. I am honestly not finding it funny because as late as 2am, we will be holding a meeting and my wife would come and say this is not a political thing. I don't like it. Come back home.
But there comes a stage in your life when – because of what you love and what God has given to you to do – you have miles to go and dreams to achieve before you sleep. I try as much as possible to want to leave a structure that I can proudly beat my hand on my chest to say my children should be part of this. I try to put in my best and right now, that's why I'm not complaining. Uneasy, they say, lies the head that wears the crown. He (Zack Orji) just gave me a letter now and I told him we have to be very very careful. But because you are a selfless human being, the average artist is a selfless human being, you just find out that you owe so much to the society, a society that is yearning, that you feel is dying daily. You want to inject a life fluid into it to make it go the extra mile. I don't see it as a position of power. I see it as a position of responsibility I owe my society and I'll keep it up.
S.O.: What is the Film Cooperative about and what is your level of involvement with it?
P.O.: The Film Cooperative of Nigeria is the collection of like minds: artistes, producers, directors, who feel they owe the country a duty to take away the concentration of crude into culture exportation of our culture out there. We found out that outside crude (oil), the film business happens to be the second highest revenue earner. I can probably tell you that from statistics we had from CBN (Central Bank of Nigeria) shows that we've been able to hit the target of 9billion Naira. It's great.
And we looked at it. The average filmmaker has been cheated in this country over time. Like I told you, I produce. I use my (resources). Walls Have Ears, I spent 1.5million. That was my money. There was no bank that gave me anything. When I did Shadow Of Death, the same thing. I used my money. I have two other films in the kitty now. I know right now, I have tied down about 3.5million Naira. You find out that you bring out all these resources and there is no backup from the federal government, state government or the local government. The Copyright Commission is not even doing enough for you. The Nigerian Police is not doing anything. You just find out that people plunder your intellectual rights and you complain, somebody comes out there – either he's faking ignorance to say that they are making your intellectual work popular or actually he does not know. Piracy is a crime against society. It is the same thing with armed robbery. Some people make light of these problems.
So we decided to form this cooperative. Let us take our destinies into our hands. Finish your work; we'll protect it for you. We distribute our works ourselves. We're no longer interested in wanting to give it somebody who genuinely might be honest with us, but unfortunately, somebody somewhere is bigger than him and he is too scared to complain. The issue is that we take our films, we finish our films, we market our films and if you touch our films, you kill us.
Inside the film market (Pix: Sola Osofisan)
What you just have here are a bunch of like minds. Maybe by virtue of the kind of outspoken person I am, they made me the Provost of this place (the Film Village). I am a stickler to rules and order. I tend to tell my friends that if you're not honest, you cannot be my friend. And my father taught me how to choose my friends. And these are friends I felt we could reason together, tell ourselves the home truth and that is why we are here under the same roof.
We have about 40 companies here (at the Film Village). I oversee discipline and regulations. It's been working out right for us. We've been receiving petitions here and there for us to expand and we tell them we're not in a hurry to expand. Whether we like it or not, the arts is an unruly society. It is only people that are ready to be governed that can be a part of us. Some people don't like my ideology, but I thank God that my forty friends here like my preaching and it has been working for us. Successfully, we've been able to release seven films (as at October 2003). Our watchword in this place is content. I know there are certain times you were bothered about the kind of films you were seeing abroad. If you look at the names that directed, the names that produced, the actors that came on board, you will not find forty of these people involved in this.
Two weeks ago, we were in a meeting with the Censorship Board DG, and she came up with something a BBC personnel said, that she watched a film and the judge sentenced somebody and said it was without a chance of appeal. And she screamed that the country was not governed like that. We said yes, that she allowed it, that she censored the film. She said no. You understand me? It goes to show you that even the Censorship Board and the Copyright Commission are involved with content, and basically what is holding us together right now is content.
The seven films, people used to say that a film would just survive three-four days in the market. Our films have been able to survive… This is the fourth month into release of our films, right Zack?
Zack Orji: About the fourth month.
P.O.: And I can proudly tell you that each of the films – something like The Addict – has been able to hit 25,000 copies (sold) as against the 5,000 copies they'll (Idumota Film Marketers) come and tell you that we sold. And somebody is telling you that he cannot pay you because he has spent so much (on marketing the film). I can tell you that the last four films we released, something like Husband & Wife has been able to – in three weeks, this is the fourth week of Husband & Wife – has been able to hit 15,000 copies.
I came back from the East yesterday by 3pm. Like I told you, they send me here and there to settle disputes. I got in there and some marketers where angry that they don't have films. I just finished a meeting with someone from Niger State that was shouting that they needed films in there.
S.O.: Any film that's marketed by the Film Cooperative is not released by any other person? These are just retail outlets?
P.O.: Retail outlets, grassroots outlets. We have our distributors and we can authentically tell you that our films are not dubbed (pirated). We do our films. We ask you if you are from so, so and so sector, we ask you for your capacity, you tell me 1000, I give you 1000. So you come back to tell me that you want more. Let me use for example now that he (Zack Orji) represents Surulere, and he comes in to tell me that Surulere needs 1000, and another person comes in to say his name his so – so and he's from Surulere, I tell him go and meet so, so and so person, he has the films (for Surulere).
S.O.: Control.
P.O.: Yes, checks and balances. And the moment any defaulter is there, there's the police. There's the court. We go to court. We have our lawyer. We're ready to flog it to any level. If you like, be a general. You touch my intellectual work, I will sue you. I don't care how long justice is served. And maybe that's why they call me a hardliner.
Nigerian Film Market (Pix: Sola Osofisan)
A Few Member Companies of The Filmmakers' Cooperative of Nigeria
1. Ralph Nwadike – Finnu Productions (Survivors)
2. Kingsley Ogoro – Otiti Movie Productions (Osuofia In London, Battle of Love)
3. Fred Amata – Amata Movies (The Addict, director Kingmaker)
4. Ifeanyi "Mr Hollywood" Ikpoenyi – Orange Seed Productions (Above The Law, Final Whistle)
5. Teco Benson – TFP Global Network (Six Problem Girls, The Senator)
6. Don Pedro Obaseki – E.K. One Digital (Seduction)
7. Charles Novia – November Productions (Real Love, When Love Dies, Husband & Wife)
8. Tony Anih – African Mega Entertainment (Master of the Game)
9. Zack Orji – (Web)
10. Chico Ejiro – Grand Touch Productions (A Night To Remember, Ashanti)
11. Rosemary Ingbi – Meiyebi Productions (A Date With The Queen)
12. Olu and Joke Jacobs – Lufodo Productions (Kingmaker)
13. Peace Fiberesima – P.M. Global
14. Zeb Ejiro – Movieland Network (Tears in Heaven, Mortal Sin)
15. Paul Obazele – Royal Pictures Ltd (Walls Have Ears)
16. Mahmoud Ali-Balogun – Brickwall Distribution
17. Tade Ogidan – OGD Productions (Hostages, Diamond Ring)
18. Obi Madukwogu – (Agumba)
…And lots more!