US WANTS CHINA ACTION OVER NORTH KOREA SHIP ATTACK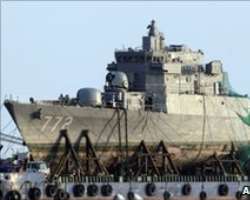 President Obama says he has had what he called blunt talks with President Hu Jintao of China on the issue of the sinking – allegedly by North Korea – of a South Korean warship in March.
Mr Obama said he understood China's position of restraint as regards its neighbour.
But, he said, restraint was different to what he called "willful blindness".
North Korea has denied it was responsible for the sinking of the warship, the Cheonan.
Its foreign ministry has instead issued a statement saying the country would be preparing a new level of nuclear deterrent in response to US "hostility".
Walking the line
The United States wants China to support a resolution in the United Nations Security Council condemning North Korea.
Speaking at a press conference after the G20 meeting Mr Obama said he hoped President Hu would recognise the incident was an example of North Korea overstepping the line.
International investigators said the South Korean warship had been hit by a North Korean torpedo.
The Japanese Prime Minister Naoto Kan told reporters he has also asked China to issue a "necessary" condemnation of the sinking.
On Saturday, the US president had said North Korea must be "held to account" for the sinking of a South Korean warship.
He said he stood with South Korean leader Lee Myung-Bak, and condemned Pyongyang's "irresponsible behaviour".
The G8 leaders had issued a statement condemning the attack on 26 March that caused the loss of 46 lives.
The statement also expressed the G8 leaders' "gravest concern that the nuclear test and missile activities carried out by the Democratic Peoples' Republic of Korea have further generated increased tension in the region and beyond, and that there continues to exist a clear threat to international peace and security."
North Korea said on Sunday that the investigation which blamed it for the ship attack was all "fabrication and lies".