I'VE NEVER CHEATED ON MY HUSBAND – JACKIE APPIAH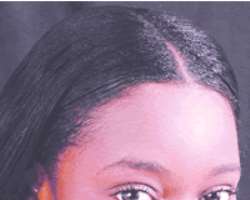 Jackie Appiah
Jackie Appiah is the poster girl of emerging Ghanaian movie industry,Ghollywood. She acts with ease and a friendship mien that makes it impossible to hate her. With big sexy eyes, sensuous lips and a rock and roll waist, Jackie defines 'sexy African' in her own way. She speaks on acting, her family and about her loyalty to her husband.
Do you still remember Eyeonam, your role in 'Things we do for love'?
Yes, I still do (laughs)
That was your first time of acting?
Yes.
What year was that?
That was in 2001.
When you think of that character, what comes to your mind now, do you laugh at yourself?
(laughs) Yes, because back then I was so slim and when they repeat it on TV and I watch it, I just laugh because then I also had a long neck. Then, it is a good film even if you watch it today. It is like you are watching a new film, it was a beautiful film and I'm glad I took part in it.
How close are you to Venus?
He is my father in the movie industry. He gave me my first lead role, that was in Divine Love and yes he is like my father in the movie industry.
People say he tries to control actors, and he's overbearing . Is it true?
No he doesn't do that; he hasn't done that to me . So I don't know anything about that.
Do you still remember your childhood in Canada ?
Yes I do.
What are the memories that come to your mind when you think of Canada?
I was really a wild child. I think back then I wasn't shy. I was a tom boy, but when I moved to Ghana , I became more reserved and more disciplined.
Then what made you change?
I don't know, growing up things changed. In life when you are growing up, you become more disciplined. But I grew up in a God fearing family.
What is it with the Ghanaian going to the extreme when it comes to sex in movies?
I don't really know. You know sometimes people want to be professional about their jobs. I can't talk about that, because I can't do that. I can't talk for everybody.
How far can you go in a movie, when it comes to sex scenes?
I can't do that; you know there are some films you do that you have to make love or something like that. I can go half-naked , but I won't act nude, no I can't do that.
If I say don't go nude, just show us your bra, can you do that?
No I can't do that.
You have a beautiful body. Why can't you just wear bra like Yvonne and give the viewers what they want?
I come from a God-fearing family and I can't do that. I can't expose myself to the whole world even with a beautiful body I don't want that. Not me.
Why is it that you don't talk about your immediate family or is it that people don't get to know your immediate family?
People talk about my family. I have a happy family. I run my home and I manage my home.
What does your husband do?
Don't go there, he doesn't like questions like that.
How old is your son now?
My son is four years.
When are you going to give us another son or another girl?
Soon, but I don't know how soon. God's time is the best.
Someone said you are the one delaying God's time deliberately because you want to concentrate on acting and things like that. Is that true?
No it's not .
Why did you leave Facebook?
I discovered so many people were pretending to be me on Facebook. Somebody browsed through my Facebook account and stole my account ID and my password, so I'm not on Facebook at the moment. Anybody talking on Facebook as Jackie Appiah is not me.
So how do people get to talk to you?
I interact with my fans when I see them, like in a programme I participated in not long ago.
I heard that Glo has appointed you as one of their ambassadors in Ghana , how true?
Yes that's true.
How does it feel to be a Glo ambassador?
It's so good, I'm honoured, it's a beautiful thing. It's a good thing and for them to consider me as an ambassador, to be a role model, to preach the gospel about Glo, I feel so great .
With the little money that you earn, why did you give scholarships to two children?
God has blessed me in a little way and I think I can just give back too and bless people that are in need, so I decided to just help two kids further their education for a year. Parents of one of them were so happy about it, because they were even wondering how they would be able to pay their child's school fees for the following year and then, I just came out that I was going to do that.
It was a big blessing unto them and they are happy about it. I didn't know about the kids from their parents , but somebody told me about them… one of the organizers . I just wanted to encourage children that education is important in life… that they need education to go far and watching them that day, I was just thrilled. So I decided to sponsor them for just a year. Majority of my fans are kids and when a kid tells you he loves you from the heart, he loves you from the heart. So this is a little gesture to say I appreciate them, especially for their prayers for me. I will present gifts to the rest of them, a lot of gifts.
How often will you do this?
I'm busy, so I'll do it once in a while. I do my own personal stuff, my own kind of charity and I don't talk about it in public so to speak.
Tell me about your education
I started schooling in Toronto , Canada and when I moved to Ghana , I went to Faith Montessori and from there I went to Alvard College.
What did you study at Alvard College?
I studied general acting.
How real is this perceived rivalry between you and Nadia?
It's not true, I don't have anything or any beef with anybody. Everybody is my brother and sister in the industry. She is my colleague in the industry so I don't know where the rivalry is coming from.
Do you gals talk?
Yes! We do when we see each other.
But you are not the best of friends?
We are friends… we are all friends, so she is my sister.
What about Lydia Fordson?
She is my sister, I don't have any problem with anybody because tomorrow I might be stranded somewhere and they will give me a helping hand. So I don't need to be envious about anybody, so I don't keep malice.
What happened between you and the producer that they said you 'duped'?
I didn't dupe any producer. If you hit the limelight, you will have a lot of enemies and some will want to bring you down. The producer himself was shocked when he heard it, because it did not happen and we didn't know where the rumour was coming from.
But we found out that it was the PA on the set who fabricated all the story, so he was shocked. He called to beg me; he apologized. We were even out together sometime ago , we went together with my friends to have fun. We were on same table together having fun in Accra. So the story was a lie.
What actually happened?
I was supposed to do a job for him. So when I came back from AMAA, I had a lot of interviews and I told him I won't be able to do the job anymore and he said that if I couldn't do a job for him that time, then I should let him know so that next time, we will work together and I said yes … okay we will do it next time.
Did you refund his money?
Yes in full; a long time ago and he was even happy about it and then he said I should not mind anybody that talks about it and I should give them his number, so they will ask him.
So what about this sex video or sex tape that they said four of you Ghanaians featured in? Is it true that you and others had sex with a Nigerian businessman?
No name was mentioned, so I can't comment about it.
But the description fits you?
Yes! They still didn't mention names, so I cannot comment about it.
Do you help them do runs in the industry?
No, I don't do that.
So no one has approached you to say Jackie, a man wants to have something to do with you in the industry?
No! No one has approached me, because they know I have a family I take care of and I run a home; so they can't come to me. Nobody can come to me and tell me that.
How long have you been married?
You should determine that from my son's age.
Let's say for five years you're telling me, you've never cheated on your partner?
Of course not, I have everything I want.
You will not cheat because of money but will you because of pleasure and some guys want you all the time?
When I'm not shooting I'm at home, so there is no room for pressure.
After AMAA award, did anything change about you?
I think I've been more disciplined when it comes to my script, but I'm still the same old Jackie.
In Perfect Pictures, you guys were just so good. Was it you or the director, that made that movie come out so well?
I will say it's everybody, the writer and the artistes. When I got the script, I read it and described the character and tried as much as possible to interpret the character. I sat down with the director and asked her what she wants me to give her as an artiste, what picture she is looking at. She told me and I played the character she wanted perfectly. So it was both of us, not just my work.
But they said you and the girl fell apart after the awards. What happened?
No that is not true. I've not had any argument with any of them. I guess some of them were wondering why the press was interviewing just only me and I was just saying that I'm not the one responsible for anybody's PR. Everybody has the right to talk about himself, I can't talk on their behalf; I can only talk for me. We are all good actresses but when it comes to me Jackie Appiah, I must talk about myself as an actress and as an individual.
Have they given the other actresses their plaques?
Yeah! Everybody has his or her own plague.
When next will you do a job as interesting as Perfect Picture?
I just shot one called Four can play and it is in the cinemas now. You know each and everyday more scripts come my way, interesting scripts, so that one will be out soon.
Who are the other guys in it?
Majority of them are new artistes, but we have faces like Majid, John Dumelo and the rest of them are upcoming artistes.
You are very free among your Nigerian colleagues. Tell us about that
When I'm in Nigeria, I see my peers as my brothers and my sisters. I respect them a lot and they make sure I'm as comfortable as possible when I'm in Nigeria. I'm just a free person naturally, that is it. I'm a down-to-earth person. That is the way I relate to my colleagues when I'm in Nigeria. It's as if I'm back home in Ghana.
When I saw you moving at the club, I didn't know you could dance….
Yeah !(laughs) I didn't know I can dance myself either.
How do you blend the two, the public Jackie and the shy Jackie?
I'm a shy person yes, but once the cameras are rolling and the director says action, then a whole different being comes in. So it is not the shy Jackie everybody knows anymore.