NOLLYWOOD ACTRESSES OF YESTER YEARS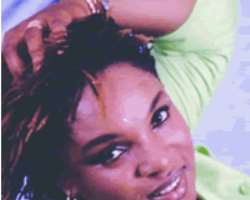 Liz Benson
Long before them, we had Funmilayo Ranco, Ogunde's wives and the likes, but the emergence of the Nigerian movie industry otherwise known as Nollywood ushered in this new set of actresses who ruled the screen, sold millions of movies with their acts and got us all glued to the TV screen.
They were the stars long before the Omotolas and Genevieves of Nigeria. Some of them have continued to feature in movies since with present days stars and some simply stepped aside. Others took to other interests. Here is Sunday Sun's 10 Nollywood actresses of yester years.
Barbara Soky
In her days, Barbara was like Omotola and Genevieve rolled into one. She was young, hot, savvy, and had an aura which made her the toast of viewers. She dined with the rich and famous and was always in gossip columns. She started acting in the '80s after getting a role in Inside Out and went on to team up with Lola Fani- Kayode in Mirror in the Sun and then much later Zeb Ejiro's Ripples. Her acting was not the only thing making headlines. Her relationship with Danladi Bako, her daughter Maxine were also subjects of news. She took a break when fame became a burden for several years and sought the limelight again in early 2000 with Amaka Igwe's Solitaire but by then, her magnetic aura had vanished and the new generation knew no Barbie, the new stars were the in-thing.
Liz Benson
She could best be described as the altar ego of Regina Askia and until they both bowed out of the ambience of stardom , their rivalry was on the front burner of news. Liz Benson made us look forward to movies and her face sold millions of movies. The 44 years old Liz started acting in 1993 featuring in Fortunes and remained the postal girl for many years before stepping aside to answer God's calling into the vineyard. Yeah, you read it right, Liz Benson is now a pastor based in Port Harcourt. She remarried last year after being a widow for several years. For years to come, those old enough will still continue to talk about her role in Glamour Girls, True Confession and Izaga.
Regina Askia
Regina had many things working for her and the world was practically at her feet. She was beautiful, suave, and brainy. With a degree from University of Lagos (UNILAG) and her crown as Miss UNILAG, Askia had her path charted for her before graduation. She was meant for the showbiz world and that was where she headed. After emerging Miss Nigeria in 1989 (following the resignation of Bianca Onoh, the then queen) Askia followed-up with a role in Mega Fortunes and was the lead act in several movies. She left the world of showbiz and went to America in the early 2000s and settled with her husband, Radolph Rudy Williams and had since given birth to two children. She is currently a practicing nurse in America.
Sandra Achums
Call her the movie bad girl and you won't be wrong. Sandra had her cup of fun filled to the brim and never give a hoot about what you thought. She was the leader of Team B after the likes of Liz Benson and Regina Askia. Once married, Sandra made the soft sell thrive in her days because many wanted to know what was happening in the life of their star who was set to take over from Liz and Regina. It never happened because Sandra relocated to Germany where she now resides and is raising a family with her husband.
Victoria Inyama
Not particularly the best when it comes to acting, Victoria Inyama made up for it with hard work and off the stage gossips for celebrity writers. She was the alternative for Sandra Achums and sometimes held her own like in Rejected Son. She never made the A-list but she made a lasting impression. She left Nigeria in early 2000 for UK where she now resides with her husband.
Hilda Dokubo
Hilda did not travel out . She isn't ill , but she just seems tired of Nollywood. She was one of the front runners in the early days of Nollywood, with stellar performance in Evil Passion, Total Desire, and Goodbye Tomorrow and others. Hilda warmed her way into the hearts of many and she has made an enduring impression. She left the scene to take up activism and an unspecified contract job with Rivers State government. Hilda was one of those that made the industry tick but she now prefers life outside the limelight where there is more peace and perhaps more money.
Omoladun Kenkelewu
She was Baba Suwe's wife and made many laugh with her sharp humour. In her days, no movie was complete without Omoladun's face adoring the jacket. Her best came to the fore when she acted alongside her husband. She died last year from a complication arising from high blood pressure.
Ameze Imariagbe
Many still believe that Ameze should not have left the scene when she did because that was when her star was just blossoming. She left in the '90s when her career was just taking off. She later granted an interview saying she had other priorities in her life. Now residing in Europe, pretty Ameze was known then as the teary Ameze because she cried so easily in movies.
Ego Boyo
From Checkmate, Violated to Keeping Fate, Ego Boyo rocked our world. She was the fine girl with sexy eyes that made most husbands receive knocks from their wives whenever she is on TV. Her performance was so timeless that we thought she would be on forever but Ego had other thoughts. She wanted a world where she would be the one to call the shots. She is doing that right now with Temple Production , the production company that has been doing great producing movies, documentaries and commercials for corporate bodies.
Funmi Martins
Funmi Martins was the rave of the Yoruba genre of the movie industry. Without her , your movies might flop in the market. With her, you are sure of a sell-out as Funmi acted so well that she became a standard for good acting. She died in the late 90s but her daughter Made had since taken over from where she stopped.