LIKE A SERA, MARTINA TAKES LACASERA FACE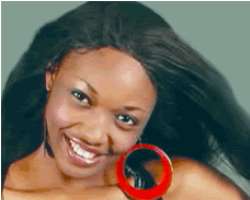 Martina
LaCasera is a brand synonymous with beauty that has contributed immensely to the attitudinal change of females in the society. Martina Onyeka Udechukwu who has always nursed the ambition of being a beauty queen, eventually emerged as a winner of the Face of Miss LaCasera 2010 among the 29 contestants of the just concluded Most Beautiful GirlIn Nigeria (MBGN) beauty contest.
In a chat with Saturday Sun , she revealed how she intends to use her position as a worthy ambassador of LaCasera to re-brand and restore the image crisis of Nigeria. She so desires to have her face boldly printed on Nigerian currency.
What is like winning Miss LaCasera?
Winning Miss LaCasera for me has been very exciting. It is like a dream come true. I am happy and ultimately grateful to God.
Before your name came up for Face of LaCasera, what were you expecting?
I was expecting to be the most beautiful girl in Nigeria which was what I went in for.
Were you disappointed when you did not win?
No way! I actually feel privileged to be Miss LaCasera. It is an opportunity for me. I am glad. This is who I am.
What is your experience so far as Miss LaCasera?
This is eight days already. I feel so much like a queen that is who I am. Then I slept like a girl and woke up like a queen. It is an experience, very pleasant one.
What sacrifice did you make to be Miss LaCasera?
Even before getting into the competition, I knew what I wanted to get. I worked on my weight, myself, carriage and personality. I tried to sit rightly, talk and act like a queen. I really drilled myself before getting into the camp. When I got into camp, it was a total drilling. They taught us everything about carriage and projecting yourself as a queen.
What were your experiences in the camp?
In the camp, I met 29 girls who also applied for the contest. It was a challenge trying to prove to them and every other person that I worth it. It was a very interesting competition among all of us since our aim was targeted at the same goal. Outside that, I had to be my very best.
What was your edge?
The edge is trying to bring the best out of me and all that is required of a queen. Before I got into the camp, people kept telling me to be myself. I thought of it and said no because myself might not be good enough. In response to that, I had to be my best. I am sure my best paid enough. I am so glad.
What prize money did you win?
It is a mega million Naira.
How do you intend to spend it?
I am out of school. I won the money for me and my family. For me, I have to spend some part on myself to look like and dress like a queen. I will like to proceed with my Master's degree. It could help me in that aspect and help my family in one way or the other. Outside that, I have my project I will like to work on. Part of it could help to start something running.
What is the project about?
I have passion to project the image of this country. Nigeria currently, seems to be passing through image crisis. I want to prove that we are not the image battered people the outside world perceive us to be. They view us as kidnappers, terrorists, rapists and all sorts of vices. These are not actually who we are. We are good people and I want to project that before the world. It is more of re-branding of Nigerian project and I will like to be part of the project. Also, I will like to touch the lives of motherless babies and destitute in the society as a way of giving back to the society.
What would you do as an ambassador of LaCasera brand?
First of all, being an ambassador of LaCasera is a platform for making me an image of this country. I am not just an ambassador of LaCasera, I am an ambassador for my country. At every point, I have to project myself a worthy ambassador. I have to hold my shoulders and my country high. I have to speak of this country with great passion and believe I have to be the true picture the youths and younger Nigerians will want to emulate. I will encourage them on the need to pursue their dreams and hold tenaciously to it.
What will the crown cost you?
I will not say it will cost me much. It is only making me a better person. It is teaching me a value of being a queen. I have to act moderately in everything I do. It is actually making me a better person. I don't think it costs me, rather it is improving me.
What has been Miss Lacasera done to your person?
It has stepped up my personality in everything. The girl that entered the camp for the MBGN contest is not the same girl standing before you.
What was your childhood like?
I had a wonderful childhood. I grew up in the family of six. I am the fifth child and I practically did not grow up with my mother but her part was never lacking in my life. She was always there even though she wasn't. My family is very God-fearing, so I was brought up within the tutelage of the Bible principle. I have a lot of things to look up to.
My siblings and father are always there.
Tell us about your background
I am 23 years old. I studied Bio-technology in Abia State University. I just graduated and hope to serve my country as a National Youth Corps member by September this year. I am a great girl. I am from Eziama in Ehime Mbano Local Government Area of Imo State.
Aspirations
I want to affect the lives of the populace of this country positively. I am actually practical about this country. I want to touch the lives of the children, youths and everybody in a very positive way. In years to come, if Nigeria intends to introduce N5, 000 note, I will like my face to be boldly printed on it.
What other areas can you explore better?
I learn very quickly. If you put me through anything, I am good enough to grasp very fast. I sing very well and I think I am good in the kitchen too.
What is your advice to other ladies?
They should learn to challenge themselves. I challenged myself. I bought my form myself. Initially, my parents were not in support of this when I started it. I knew what I wanted and today my family is really proud of me. You should challenge yourself to do the right thing. Believe in yourself to get hold of your dreams and your goals because nobody can do it for you. You can do that which is in your heart and do it right. You don't need a man to do it right for you. You need to believe in yourself to do it.
Any relationship?
Whoever it is would want it to be private.
Who is your mentor?
My dad, Nze Edwin Udechukwu is my mentor. I have always looked up to him in life. He has brought a positive change in my life.
How do you cope with admirers as a beauty queen?
They will always come around, but I need to be wise about it. I have to be focused and always know where to draw the line.
Future plans
Definitely, I will be getting married at the right time. I have to be a great mother and I still hope to have achieved my dreams and aspirations and build my empire in a very interesting way that wherever you stand, you can always see it.