Kelly Writes Kennis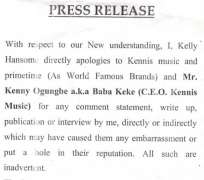 We have just obtained a copy of the press release Kelly Hansome issued this week, apologising to his former label Kennis Music.
As we reported earlier, the singer is neck-deep into reconcilation discussions with the label, and part of the conditions, we are told, is that he offers a full retraction and apology for all his past statements against the label.
And, as the document above shows, Kelly is cooperating so far…

Is Mr Hansome really sorry, or just following a game plan?