We have recovered $3.5 billion says Waziri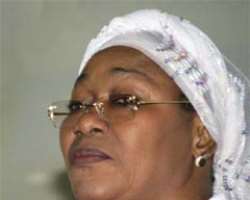 Farida Waziri
Economic and Financial Crimes Commission (EFCC) boss   Farida Waziri, yesterday said the commission has so far  recovered about $3.5 billion and secured 100 convictions.
Waziri, who made the disclosures at the public presentation of an Anti-Corruption Handbook written by Tabi Joda, blamed the slow pace of courts processes for over 400 cases pending in courts.
She said: "As I speak to you now, we have over 400 cases in court including over 50 high profile cases. Only recently, we achieved conviction in a very high profile case involving the former chairman and members of the Board of Directors of the Nigeria Ports Authority (NPA).
"At every single opportunity, I have always pointed out that by far the most depressing aspect of our fight against corruption is the slow pace of court processes. 
"Clearly, this state of affairs is unacceptable and it is high time the Judiciary and the National Assembly set up a separate court for Economic and Financial Crimes with its special rules of procedure to expedite trials.
"I have also called for laws that will enable us sequestrate the assets of accused persons and convert them to government assets upon their conviction whereas those are long term goals. I think the judiciary can do a lot to speed up our trials."
The EFCC chairman however explained that despite the slow judicial process, the EFCC was able to secure 100 convictions and recovered about $3.5billion.
She added: "The first thing I want to do today is to assure all Nigerians of the determination of the EFCC to continue the fight against corruption with unstoppable vigour and commitment and to fight it at every level and facet of our society.
"Just last month, a strategic initiative on our part will cut down by between 50-70 per cent the incidence of Advance Fee Fraud. At our instance, the Central Bank of Nigeria has issued a circular regulating the modality of remittance of funds into Nigeria.
"We have advanced our technology to match the sophistication of cyber criminals by deploying Project Eagle Claw. We have initiated tax investigations which have led to recoveries of over N3billion.
"These achievements have caused our global corruption index to jump from 0.5 points to 2.7 points leaving us as 121st out of 179 countries sampled by Transparency International (TI). Whilst this is still a deplorable