INEC: JONATHAN DROPS MAMMAN, ANKA AS INEC COMMISSIONERS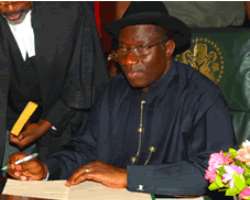 President Goodluck Jonathan on Tuesday made good his promise to drop members of the Peoples Democratic Party (PDP) that were hitherto nominated as national commissioners of the Independent National Electoral Commission (INEC). This was just as the Senate on Tuesday resolved to carry out the screening of Professor Attahiru Jega as INEC chairman and 10 other national commissioners sent to it by President Jonathan at the Committee of the Whole.
In a letter to the president of the Senate dated June 17, 2010, President Jonathan sought the indulgence of the Senate to withdraw Major General Abdullahi Bagudu Mamman (retd), a member of the Board of Trustees of the PDP representing the Federal Capital Territory (FCT) and Ambassador Mohammed Zakki Anka, who contested the governorship seat of the PDP in Zamfara State in 1999.
President Jonathan in the letter explained that the replacements of the two former nominees would be forwarded to the Senate for consideration and subsequent approval.
Earlier in a letter dated June 8, President Jonathan said based on the provision of Part 1 F of the Third Schedule of the 1999 Constitution, INEC is expected to comprise a chairman and 12 other members to be known as national commissioners.
He further said at the moment, there are 11 vacant positions of chairman and 10 national commissioners to be filled, adding that it was in the exercise of the powers conferred on him by Section 154 (1) and 156 (3) of the 1999 Constitution, he had decided to appoint Professor Attahiru Jega as chairman and 10 national electoral commissioners for INEC.
The names of the national commissioners include; Mrs. Amina Bala Zakari (Jigawa/North West), Dr. Nuhu Yakubu (Yobe/North East), Dr. Abdulkadir Suleiman Oniyangi (Kwara/North Central), Dame Gladys Nne Nwafor (Abia/South East), Mr. Ismael Igbani, who is reappointed (Rivers/South South), Mrs. Thelma Iremiren (Delta/South South) and Prof. Lai Olurode (Osun/South West).
President Jonathan also said he decided to forward the list of the INEC chairman and commissioners to the Senate after consultation with members of the Council of State in accordance with Section 154 (1) and (3) of the constitution.