Dogo Na Hauwa Victims Drag FG To Court, Demand N1B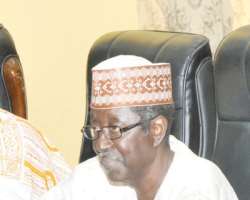 PHOTO: PLATEAU STATE GOVERNOR MR. JONAH DAVID JANG.

JOS, June 22, (THEWILL) - Relations of the victims of Dogo Na hauwa, Jot and Ratsat Villages who were attacked by people suspected to be Fulani, last March, have dragged the Federal Government to court over the killings of their relations and are demanding N1 billion as compensation.
Also joined in the suit are the General Officer Commanding, GOC, 3rd Armored Division in Jos Major General Saleh Maina, the Nigerian Army, Air force, Navy and Police.
Da Pam Bot, and Da Philip Zi, and eleven others in the suit are demanding the N1 billion as compensation as they approached the court to compel the defendants to pay the money for the damages done to lives and properties in the villages.
Suspected Fulani marauders had on the 7th of March 2010 attacked Dogo na Hauwa and the other villages killing over a hundred persons including women and children while setting many houses ablaze.
The three villages are in Jos South and Barkin Ladi local governments of Plateau state.
The villagers in the suit accuse the federal government and the security agencies of negligence and failure to protect the lives and properties of their relations and for the court to declare the GOC as not fit to hold office.
Counsel to the villagers, Barrister Damulak asked for more time to enable him serve all the defendants in the case with the writ as some of the defendants were neither present nor represented in court.
The case had been adjourned to the 7th of July.