MINIMUM WAGE NOT FOR ALL WORKERS – MINISTER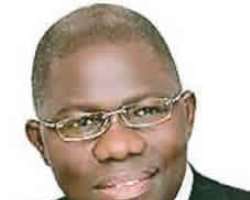 Remi Babalola
The dreams of workers who may have started calculating what their income would be in the next few months appears to have been shattered as the Minister of State for Finance, Remi Babalola over the weekend disclosed that the new minimum wage recently announced by President Goodluck Jonathan would not be for all categories of workers in the country.
The minister said the new minimum wage announced by the president will basically apply to workers at the nation's institutions of higher learning, having earlier entered into an agreement with workers on the new pay. Such categories of workers according to him include Academic Staff Union of University (ASUU), Senior Staff Associations of Nigerian University (SSANU) and the Non Academic Staff Union (NASU).
President Jonathan had announced that the new minimum wage for workers will be effective as from July 1. But the minister however added that other categories of workers, would also enjoy the new pay later.
According to the minister who spoke on a television programme monitored in Ibadan 'the implementation of new minimum wage is in phases and will apply to other categories of workers as soon as the Federal Executive Council approves the recommendation of the Justice Belgore committee.'
On the removal of subsidy on kerosene, the minister pointed out that subsidy must be targeted at vulnerable groups in the society and must be effectively monitored. 'Most people that are supposed to be enjoying the benefits of subsidy are not even enjoying it. For instance, you see people queue up with jerry cans at filling stations to buy kerosene and when you get to their house they have tanks where they will be dispensing it at high prices.
They buy at subsidized rate and sell at exorbitant rate; that is not productivity. The whole essence of economy is to make it more efficient and effective. So if you see that you are not making best use of the subsidy, who was the people benefiting from the subsidy. Are there better ways to manage this? How will I ensure that when my mother who lives in Ibadan here will go out and buy kerosene at the subsidized rate?
If that is not possible, it therefore means that it is another person that is taking up the subsidy. It does not make sense at that point. I would rather prefer the removal of the subsidy for us to better the lots of the people,' Babalola stated.