CNN: Celebrating Nigerian born Oil Tycoon, Kase Lawal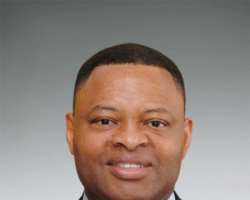 Kase Lawal was featured on CNN's African Voices, where he talked about how he started his own business, and how the business rose to becoming a multi-billion dollar empire.
From Nigeria to Texas Oil Wealth, Kase Lawal, a man I personally have an utmost respect for and often consider him as my role model, especially because I am also an Engineer in the Oil and Gas field, and just listening to his story about how he broke through in this oil business is just very inspiring
HOUSTON — Whatever mental image is conjured up by the words "Texas oilman," it's safe to say that Kase Lawal isn't it.
A devout Muslim, Lawal, 52, doesn't drink or smoke. The Nigerian-born executive exudes an unflappable calm whether discussing racism in America, spiraling political violence in his homeland or the intricacies of the oil business.
J.R. Ewing, he's not.
Yet, CAMAC International, the privately held independent oil and gas company Lawal founded two decades ago, today boasts $1.5 billion in annual revenue, 300 employees and offices on three continents.
Teaming with some of the biggest names in the global oil business, Lawal has prospered by zeroing in on difficult environments, including Nigeria, where militants in recent months intensified their attacks on oil facilities and kidnapped foreign workers, and his next objective, Venezuela, home to anti-American President Hugo Chavez.
"I've been very lucky in the partnerships I've been involved in. … More importantly, it has been the blessing of God," Lawal says.
Lawal's unlikely path from Ibadan, a city of 3.8 million people in western Nigeria, to success as an energy-industry entrepreneur illustrates the unsung role of foreign-born talent in the USA's innovation-era economy. More than 25% of the engineering and technology companies launched in the decade ending 2005 were started by foreign-born executives, according to a new Duke University study.
Lawal's tale is also a reminder that a knack for adjusting on the fly is as essential for would-be business mavens as following a fixed blueprint.
Lawal first came to this country as a college student in 1972, his imagination fired by John Wayne movies and the civil rights struggle then unfolding in the United States. His goal at the time was utterly pedestrian: a job that would leave time for family life and ultimately provide a decent pension.
Starting in business
But while studying for an MBA, Lawal became intrigued by the possibility of helming his own operation. Then, on a long-haul airplane flight from Africa to Europe, he happened to sit next to a university professor from Cameroon, Nigeria's neighbor, who was looking for someone to supply American tobacco for a new cigarette factory.
Returning to Houston, Lawal, then a research chemist for Dresser Industries, spent months researching the tobacco business in his spare time. Finally, he sent price quotes to the professor, who gave the go-ahead for a purchase.
That was the good news. "The bad news was, I didn't know how to buy tobacco. I don't have money or financing," Lawal says in an interview on the 22nd floor of an office tower in Houston's tony Galleria neighborhood.
That didn't stop him. Lawal found a tobacco supplier in Springfield, Mo., who agreed to extend credit. Over a traditional Ozarks dinner of chicken-fried steak slathered with thick gravy, Lawal sealed the deal that launched the Cameroon-American Company (CAMAC).
For four years, he concentrated on securing financing from the government's Export-Import Bank and hiring commodities experts who knew everything Lawal didn't about his new industry.
"The management team — that was the key partnership," Lawal says. "It's the bedrock of our organization."
A turning point for the young company came in 1989, when Rilwanu Lukman, then foreign minister of Nigeria who later became secretary general of the oil producers' cartel OPEC, visited Houston. At a Rotary Club meeting, Lukman told him the Nigerian government wanted to spur development of a local energy industry. With his knowledge of Nigeria and his Houston address, Lawal was ideally positioned to attract major oil companies, Lawal says Lukman told him.
Lawal approached 19 major oil companies in the USA and Europe, looking for partners. But with West Africa only beginning to appear on oil industry maps, unsolicited proposals from an unknown commodities salesman with no oil patch experience elicited predictable responses. "They all laughed at us," he recalls.
Lawal knew he had to get beyond cold calls. To make contacts, he borrowed a friend's membership card and began loitering around a country club frequented by golf-playing oilmen. He eventually met a senior vice president at Conoco, who put him in touch with the firm's CEO, Dino Nicandros.
Conoco deal key
In the 1970s, Conoco had been burned by a West African middleman who had promised more than he could deliver, so Nicandros was wary. But after thoroughly vetting Lawal, even checking him out with the local police department, Nicandros dispatched a team to investigate the Nigerian program. In 1991, Conoco and CAMAC agreed to jointly operate and share production from any Nigerian discoveries. "It was perhaps the turning point in the life of this organization," Lawal says.
CAMAC later added as partners on other projects British Petroleum, Eni/Agip and the Norwegian state-owned oil company, Statoil. Lawal expanded into Colombia and has plans to add Venezuela, though Nigeria remains the core of the business. The company expects to begin drilling its latest well there within a week, says Joseph Alex Loftus, executive vice president.
The oil majors bring technical expertise and deep financial pockets. CAMAC brings political contacts, local market knowledge and some cash to these deals. "This little company actually has foreign experience producing oil in Nigeria, which is different than just serving as a local partner," says Monica Enfield, an analyst for the consultancy PFC Energy.
Over the years, CAMAC's revenues have climbed from $114 million in 1999 to $1.5 billion today. In November, CAMAC ranked 272nd on Forbes' list of the top privately held companies in the USA.
For Lawal, CAMAC's success has translated into both wealth and stature. He and his wife, Eileen, live in a 14-room, 15,264-square-foot house appraised at $3.5 million. The "me" wall in his conference room features photographs of Lawal with former president Bill Clinton, whom he accompanied on a 1998 trip to Africa, and flanked by former president George Bush and former first lady Barbara Bush. In 1999, Olusegun Obasanjo spent two hours in Lawal's office shortly before returning to Nigeria to contest democratic presidential elections, which he won.
"(Lawal) has the ability to open doors that have been shut for a very long time," says state Sen. Rodney Ellis, who attended the meeting. "He's a shrewd businessman."
Today, Lawal delegates the day-to-day running of CAMAC while he concentrates on public service work and a new commercial venture. Though he plays down his experience with racism as not overly "injurious," Lawal acknowledges still-vivid memories of the trouble he had securing financing as a minority-owned start-up. In 2005, he acquired Unity National Bank, the only black-owned bank in Texas, and is relaunching it as a financial institution catering to minority-owned businesses.
What keeps him going? "I'm always, always very scared and afraid of failure," he says. "There's no complacency here. You cannot — because the moment you have that sense, you've lost it."