Michelle Bello: Film making is my life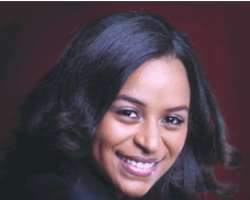 For award-winning movie producer/director, Michelle Bello, film is life. In spite of the challenges of the profession, what Michelle loves to do all the time is film. In fact, she is so passionate about movies that she would give everything to be on location.
She says: "I am passionate about film and I really love to do it. I do not have any particular social goal in film making. It depends on the story of the film I am interested in. I just wanted to tell the Nigerian story to the world."
Michelle, half caste daughter of Air Vice Marshall Bello, describes herself as very friendly and out-going. "I'm a very friendly and out-going person. I am a true friend till the end just as long as you don't piss me off."
In April 2009, Michelle's feature film, Small Boy won two AMAA awards for Best Art Direction and Best Young Child Actor.
Earlier at various awards ceremonies and film festivals, the film had earned honours including two nominations at the American Black Film Festival in Los Angeles, the Heineken Red Star Award for Innovation in Film and the Target Filmmaker Award for Most Inspirational Film.
Michelle's challenges in filmmaking are similar to those faced by other producers around the world: funding. However, according to the American-trained film-maker, apart from financing, she still has to grapple with piracy.
Set in the slums of Lagos, Small Boy is based on a true story of 10-year-old Sunny and his treacherous journey of survival. Living with his parents, he witnesses his father's regular physical abuse of his mother. And living in fear of his father, Sunny tries to protect his mother but ends up in the crossfire. Furious, his mother decides to leave her husband and takes her two sons with her. Now in her friend's house, the woman struggles to put her life back together but gets frustrated and beats Sunny when he loses her money.
Sunny runs away terrified and ends up on the streets of Lagos beginning his journey of survival. Wandering the streets, he meets a street kid, Deola, and becomes part of his gang. Sunny soon discovers the world of drugs, violence and must learn how to survive or perish.
The cineaste describes Small Boy as simply inspiring. On the message she's trying to pass across, she says: "It tells people that no matter what you go through in life, you can still make it if you are determined. That no matter the situation you find yourself today, whether you live in the gutter or wherever, you can make it. And we also want to show to the world that it is not everything in Nigeria that is miserable."
Thirty-Three-year-old Michelle confessed to Blockbuster that finding the story of Small Boy inspiring is what made the movie her choice. "I found it very inspiring and I chose it. The film also creates awareness on child abuse as witnessed in the Nigerian situation. It was shot three years ago. I felt really inspired and encouraged that it won two awards in AMAA. I actually set out to produce a different film from the regular Nollywood films and amazingly it won an award." Canvassing for more passionate film makers in Nollywood, Michelle says it is amazing how far the Nigerian movie industry has gone. "But there is room for improvement. We need those who are passionate about bringing quality to the work and would do a professional job."
Michelle just created a film directory on her websites and she says it was done to provide a forum for interaction among film practitioners across the globe.