KSB parties with turn around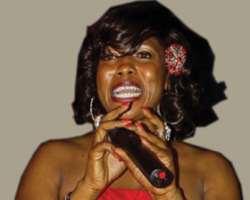 It was an evening of fun, music and dance for Kenny Saint Brown's friends, fans and the patrons of Red Lounge on Oregun Road in Ikeja on 5th of June, 2010 when the veteran gospel music singer brought her new brand of kingdom music to the Lagos club scene.
The event was the launch of her new album, "Turn Around", on which she featured some of the hottest new artistes and producers on the Nigerian music scene.
It was an elated KSB who appeared on the red carpet in front of cameras and journalists, followed by fellow artistes, fans and family to celebrate her latest birth.
"I feel so fulfilled today, to see this day as a success," KSB said on the red carpet, practically bouncing around with excitement. "I feel like someone who has been pregnant for about three years. It all started when I was rebranding, I didn't have a line of the album at that time. I was just following instructions from God. I feel so blessed and favoured for this new assignment."
She said this was the first step in pursuing her new mission of bringing kingdom music to the club scene in Nigeria. The red carpet was swarming with new and upcoming artistes, many of who were on the album with her.
One person who stood out on the carpet was legendary masked man, Lagbaja, who, to the surprise of even KSB herself, was there to support the gospel musician. On seeing him, she quickly went across to give him a warm welcome, before Lagbaja himself was practically swallowed up by the waiting paparazzi.
Inside the club, the evening started off with performances by label_mates, Essence and Jaywon, plus Afro hip hop crooner Danny Young and a host of other acts, which were all well received by the eager crowd at the club.
Then on stage came the woman of the moment, who started of with Alaye, a song co_written with ID Cabasa.
Earlier she had said that this particular song was one of the most challenging on her album for her to deliver.
"It is the song of someone who was faced with a challenge and was almost swallowed by that challenge, but eventually overcame that challenge and is now on top. For me, it sounded very poetic. It had a lot of dancehall in it, had a lot of energy.
I didn't even think I could do it, but I worked with a very gentle producer who took me through each line of the song so I could deliver it with a lot of energy."
She went on to belt out four more songs from the album, giving the audience a full taste of her new sound.