Mr. Ibu is Champion Sportsman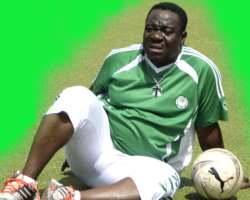 Worried by the agonizing treatment often times meted to Africans who travel to Europe and other parts of the world in search of greener pastures, a migration resource agency, Towncrier International, based in Germany, has premiered a heart-rendering movie chronicling the ugly trend as a way of protesting against whites' insensitivity to the plight of African immigrants.
"The Champion Sportsman" is the title of the movie. It's a movie of intrigues which aims at enlightening people on the challenges of African migrants. The film, which press preview was held penutimate Wednesday, at O'jez Chinese Restaurant, in Surulere, by the agency is an eye-opener for desperate travellers who,overwhelmed by the desire to travel, disregards the experiences of others and embark on such trips.
Shot mainly in Berlin and Okigwe, Nigeria, with the collaboration of German artists and the German University of Art, Braunschweig, The Champion Sportsman tells a gripping story of Okoro, a Nigerian who "sells all his properties, and with the proceeds, buys a false passport with visa and travelled to Berlin, Germany.
On arrival, his initial plan to stay only six months and make as much money, get subsumed by language problems, cultural differences, racial psychologies, socio-economic hardship as well as a deportation process".
As he finds himself in a dilemma, Okoro must decide whether to give up or confront the Europe that is quickly becoming a boxing ring for unprepared immigrants from Africa.
Featuring such Nollywood stars as John Okafor (a.k.a Mr. Ibu), Patience Ozokwo, Sandra Achums, and some German artistes, The Champion Sportsman a 115- minutes film in English, German, Igbo and pidgin, was shot in July and August last year. The film reveals the typical cliches of Europe in Africa which cause immigrants to arrive in their desired country unprepared to all obstacles. It questions the typical European attitudes towards Africa.
According to the writer and director Mr. Azubike Erinugha, The Champion Sportsman is a Nollywood movie realised in an unusual Nigerian-German co-production. "The aim of the project is to approach and reflect the complexities of migration in a way which confronts cliches and offers divergent perspectives on the issue. The focus is split, on high-pitched African expectations of a life in Europe and on the humiliating European politics against African migrants as well," he said.