No Love Lost Between Us, Says Funke Akindele And Fathia Balogun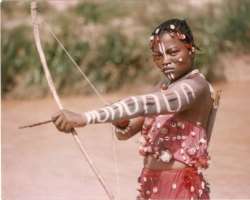 Contrary to wide spread rumour that top Nollywood actress Fathia Balogun and fellow actress Funke Akindele are not in good terms over who is the better actress, both Funke and Fathia have denied any such is happening between them.
In a recent chat with celebrity magazine, Encomium Funke described the tale as not only unfounded, but also fallacious. She went further to label those behind it as enemies of progress.
"To start with, Fathia is my senior colleague and elder sister. She started acting even before I entered the industry. She is very popular and hard working actress. She is my adviser all the time. She features me in her movies too. For instance, she featured in The Return of Jenifa, which will soon be released. We have been together for long, and enemies can't cause any rancour between us. Both of us have no reason to quarrel with each other. So, it is baseless for anybody to be saying we are fighting for supremacy.
It is wicked and malicious rumour. I just see those saying that as enemies of progress." she said
Speaking in the same vein, Fathia Balogun added: "That can't be true. It is just a rumour from senseless and jobless people. I have always advised Funke to ignore all these side talks. People will always want to cook up stories against anything that is good .By now, I believe she should have developed a thick shock absorber against all this unnecessary rumours.She is my sister and she always respects me. We don't have any reason whatsoever to quarrel with each other."