Minister inaugurates 2010 Abuja Carnival committee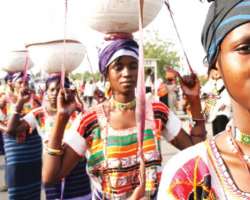 The Minister of Tourism, Culture, and National Orientation, Abubakar Sadiq Mohammed, has inaugurated a committee to organise the 2010 edition of the Abuja Carnival.
The inauguration is coming about four months to the event, scheduled to hold in November in the Federal Capital Territory.
The 13-man committee comprises the Minister as chair; Rasaki Ojo Bakare, Artistic Director; S. B Ozigis; George Ufot; Tukur Mohammed, manager, finance and accounts; and Grace Gekpe, manager, administration. Others are Samuel Tunde Bello, Sam Agbi, Dotun Osunsanya, Lucky Onoriode George, and Ahmed Tijjani Abubakar.
At the inauguration ceremony held in his office, Mohammed stressed the role of the carnival in promoting Nigeria's arts and culture. He also touched on the origin of the carnival, which started in 2005, and charged the committee to produce a world class carnival to celebrate Nigeria's 50th anniversary.
The Minister reiterated his belief in the ability of the committee, comprising four of the people who organised last year's edition, to package a hitch-free carnival that will accelerate the promotion of domestic and international tourism in Abuja and Nigeria. Mohammed also assured Nigerians that the committee would package the best carnival ever.
"As the host ministry, we hereby pledge our unflinching support to the committee for effective implementation of the 2010 mandate," Mohammed concluded.
Artistic Director of the carnival, Rasaki Ojo Bakare, who responded on behalf of other members, promised that this year's edition will be unique and score three 'As'.
The first 'A', according to the professor of Drama at the University of Abuja, is making history for setting up a committee made up professionals; while the other 'A' is the successful inauguration of a committee several months before the event itself.
The last 'A', according to Bakare, who was also Artistic Director of the last edition, is ensuring that money is made available for the committee to deliver a world class carnival in November.