NIGERIANS HAVE PROVED THEY CAN VOTE FOR ANYBODY IRRESPECTIVE OF PLACE OF BIRTH – ADEBANJO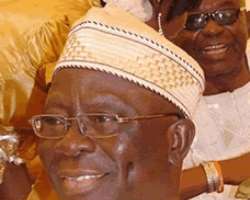 Adebanjo
Pa Ayo Adebanjo is a chieftain of Afenifere. A member of the defunct Committee of Friends of Chief Awolowo, which later metamorphosed into Unity Party of Nigeria (UPN) In 1978, he served as a national executive council member of the party, in the Second Republic, from 1979 to 1983.
He would be remembered for his activism, especially when the June 12, 1993 presidential election, won by Bashorun M.K.O. Abiola, was annulled. With other patriots, he founded the National Democratic Coalition (NADECO) in 1994, and was in the forefront of the fight for the restoration of Abiola's mandate.
When the ban on politics was lifted in 1998, he helped in forming the Alliance for Democracy (AD). And upon its death, he became a pillar of Democratic Peoples Alliance (DPA).
In this interview, Adebanjo told Saturday Sun why Babangida should not contest 2011 election and demands public apology from the former military president for annulling June 12, 1993 election.
It is 17 years since June 12, 1993 election was annulled. What does June 12 mean to you?
June 12 is the day that Nigeria had the best, freest and unadulterated election, which, was aborted unfortunately. It was the day Nigerians showed that whether you are a Christian or a Muslim, they would vote for you and they believe you can deliver the goods. Obviously, it was really a blessed day, and whoever that annulled that election will continue to regret it because he harmed God's anointed.
The slogan then was 'Power must shift' and that is why it is so unanimous. That was also why Tofa lost in the North. The conscious northerners, too, believed that in order to keep the country together and to show that it does not belong to a particular section of the country, they should allow power to shift. That was why they voted against Tofa; even Kano voted for Abiola. That was unanimous throughout the country. The more you talk about this thing the more you see how unfortunate and unfair Babangida was to the country. That is why we are still suffering till today.
Some people say that June 12 should be declared a public holiday. What is your take on that?
Of course. June 12 is really Democracy Day. May 29 is not. May 29 was just a day that the civilian regime was installed. Without June 12, there could be no May 29. The fight against military dictatorship over June 12 gave the country democracy. It was the resultant effect of not recognising the June 12 mandate that led to series of upheavals in the country. Nigerians really fought the battle against military dictatorship and the soldiers were forced to leave. When they left, it led to the election that brought in Obasanjo.
Babangida recently called for the immortalisation of Abiola. What do think about this?
He should say it to the marines. Who does he want to impress by that statement? The Yoruba have a saying that a deliberately committed offence has no forgiveness. Babangida knew what he did was wrong. What he should do is to continue to pray to God for forgiveness. It is a shame, especially in a country of this nature, that he still feels free. He should remember the consequences of his regime. We had a terrible administration under him and by the time we were happy that we were coming to the end of military rule, he said no. That led to another continuous military rule from Abacha to Abdulsalami, and even to Obasanjo. Obasanjo is a continuation of the military. So, as far as I am concerned he should just stop talking.
I don't know how many people he is going to impress with whatever he is saying. Till now, he has not told us why he annulled the election. All he is saying is that he conducted a free and fair election and annulled it, and that he takes responsibility for it. I don't know whether you heard any other thing. What does that mean? Does it mean that you conducted a free and fair election, you annulled it and therefore, that is the right thing to do? What is the justification? Because he conducted the election and annulled it? What is the justification?
Now Babangida is coming to contest election in 2011, what is your opinion?
He has the constitutional right to contest election and the people have the constitutional right to reject him. I don't see any rational person in Nigeria who will vote for him. It is only a mad man that will vote for Babangida. Even if you forget about the annulment of June 12, 1993 election, what about his administration itself? The devaluation of Naira started under his regime. We have one of the best fortunes in oil under his regime. What did he do with it? What can we remember him for? Is it the way he treated journalists? He was against freedom of speech. He shut a number of newspaper houses. He should let us forget things. Let him just be in a corner. Showing his face is like insulting Nigerians.
Are you one of those asking Babangida to apologise to Nigerians?
Exactly. You know, to show how contemptuous of us he is, any time people want him to apologise he would raise a question and say he takes responsibility. Have you heard him say he was sorry for what he did? He has never told us the reason he annulled that election.
What do you expect in 2010 general elections?
If Goodluck Jonathan will fulfill his words I hope we will have a better election. He has started well with Attahiru Jega and I believe that Jega is one of the people with unimpeachable character. The next thing Jega should do is to give us a reliable voters' register. All the devils in voters' register must be wiped out. That is the beginning. Without getting a proper voters' list, rigging has already started. Again, the Uwais report should be implemented. It is the key to electoral success. If you don't have a good electoral law all sorts of accusation will manifest. With the electoral law, Jega and dependable commissioners to help him, the chances of rigging election will be remote.
Should Jonathan run for 2010 election, as some people are clamouring?
I support any opportunity to give chances to the minority to rule. My support is not because he is there. As a lieutenant of Chief Awolowo, we have always believed that the minorities have a right to rule the country, and that the constitution must uphold that there should be no section of the country that should be deprived of the opportunity to reach the highest electoral office. Because of the number of times the North has ruled the country they should tarry a while and let other people have a chance. The agitation that Obasanjo was from the South does not hold water. Nigeria does not belong to North and South. It is not a question between the Yoruba and the North or between the Hausa and the Igbo. There are various ethnic nationalities in the country and the constitution must be made in a way that all the nationalities must have a chance of ruling the country.
That was what led to zoning or rotation. It does not mean North and South. There are six geo-political zones, among which Presidency must be rotated. And fundamentally, if Jonathan has an idea of the road to progress in this country, there is need for a really federal constitution, which every nationality and ethnic group will take part in. The constitution we are operating now is a military constitution. It is a unitary constitution fraudulently called federal, and that was why the late Chief Rotimi Williams said we are having a fraudulent constitution because everything there is unitary, not federal.