MAKE UP FOR THE DEAD IS GOOD BUSINESS – OKUSANYA JNR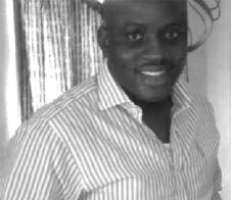 Okusanya
He bears similar names with his father, the unassuming and soft-spoken Funeral Director of MIC Funeral Homes, Tunji Okusanya Snr. While the father oversees the overall business, Okusanya Jnr specialises in the art of cosmetic beautification for the dead.
The university graduate in a chat with Daily Sun, pointed out that somebody has to do the job that many refused to get involved in. However, he is quick to point out that service is the inner satisfaction that is derived from the morbid business contrary to the belief that there is mega bucks to be made from it.
'I make-up for the dead.
Gone are the days that a dead person looks horrifying, now people want their dead relative - sister, mother or even wife to look exactly the way she was, even in death. There is no problem with this at all, it is the same way one makes up for the living, the only difference is that while one is conscious of the beautification, the other is unconscious. Someone else will tie the 'gele' (head tie) for them, they wear the same clothes we put on. We take care of them, ensure they are bathed with whatever soap the family wants. Everything a mortician will do, that is what we do. There are several interesting departments in the funeral home and I do almost everything. To tell you the truth, I enjoy every bit of what I do. We are into every funeral packaging.'
Background
My name is Olatunji Okusanya, I studied Banking and Finance at the University of Lagos and I work for MIC funeral home. I was born into the family that happens to have a stake in the funeral business. It all started from my grandfather, who used to be a furniture maker. He made solely caskets way back in 1946 and the business grew, started from Odunlami Street, and we are still in that business till now.
At some point in time, my father, after all his education abroad, decided to come into his father's industry and due to the advantage he had in terms of exposure, saw a new dimension to the business. He did not just start from making caskets but looked for other innovative things to re-brand the industry. He started to provide funeral services and selling caskets at the same time. The first set was the pall bearers, way back then the funeral hearses we used were from the local government. As at then it was the best. My father did an overhaul of the funeral industry starting from the hearse, pall bearers, and band and as at today we are visible among every Funeral Director in the world.
Starting
Right from when I was in primary school, after school hours I come to the office and see what is being done. I don't go home straight, day in day out. Even when I entered secondary school, my itineraries did not change. Anytime I am on holidays, I go to the office and do what I am asked to do. At that young age, I worked in every department, from helping to make the caskets in the furniture department to the last detail. It was not that I sit in the office, I even follow those delegated to buy planks and I had the opportunity from there.
I did not have the opportunity to play or hang around even when I went to the university; I still come around to learn the nitty-gritty of the business. Instead of just hanging around after lectures, I come down to the office still. I have tried to make my impact felt in everything that I do. That was how I got into the industry. Now, that we speak I have other businesses that I do but my first port of call is MIC Funeral Home, in which I have invested my resources and energy.
MIC
We have set the standards at MIC, not only in Nigeria but across the continents of Africa and the world. We have carved a niche and ensure that the standard set is not compromised. At least, the name MIC has become a household name when it comes to funeral services.
My Job
Basically, I am into business development in MIC, most of the time I do the background work. That does not mean that I don't do other things. Just like my father, who is into everything from casket making to embalmment of corpses to ensuring that the dead is given a qualitative and befitting burial, I follow the same trend. I am also on the field on a daily basis. Sometimes, we have 50 or 100 jobs in a week and I have to also be part of it. I organise funerals, basically I am a funeral director. I co-ordinate and monitor every bit of everything.
Hanging around is not something anyone should miss out on at any point in time. At the same time being a young chap. I may be tempted to say that I missed out hanging out with friends. But at the same time, when one looks at it, every successful man in the world does not play to achieve success. It takes a lot of hard work and more hard work. I have mentors and role models and all they tell me is to work harder.
So, why don't I do all the hardwork now and relax when I have grown grey hairs. I do not regret not having the opportunity of being in the streets when my peers were partying. I have been at work right from primary school. I have siblings who are also going through the same tutelage that I passed through, so it is not limited to me. The essence is to allow them choose the path they want. Yes, of course. That is part of what I do. I make up the dead too. We are into everything.
Father's job?
If I am proud of my father's job? I think I will answer it this way… when a man creates a modern industry, make it to a world-class standard, or when a man's name is mentioned amongst millions of names, why won't I not be proud of him? Personally, I would say when you have an individual who cannot have a mentor at the home front, then the home front has a problem.
First and foremost my father is my mentor; I am not saying that he is a perfect human being. For Godsake, he is a hard working man who has conquered so many things as an individual. He is a man that has brought an industry from zero level to where it is today. He is an entrepreneur and someone who has revitalised the morbid business. He is a man amongst many men, and I have to be proud of him and take pride in what he does.
He has transformed the funeral business from mere casket making to what it is now, the transformation is not just for him alone but also for mankind. Employments are being created in funeral homes on daily basis because one man has demonstrated that there are opportunities in our kind of business. If you find out today, whatever he has done, he has not done for his home alone. He has done the industry proud.
If I have the opportunity of coming back to this world, I would be glad to come back as my father's son. Reason? He gives me joy, even if we do not have the whole money in the world to show for it. It gives me joy to be the son of a man who has been involved in funerals of hundreds of Nigerians.
Growing up
My father was always hard on lots of people around him, including me. There is no preferential treatment and he has lots of respect for me. He is my father and my boss at work. Imagine having respect for your boss at work and another respect as your father, all encompassing the same person.
Mentors
My parents are my mentors. These are two individuals that have conquered their fields. As you know my father is into morbid business while my mother, Dame Mobola Erogbogbo, is into organic water gardens. They taught me selflessness and hardwork, these are my mentors and every other person is secondary to them, because they are two successful people in their fields who gave me an opportunity to learn from both of them.
Toeing the line
I have people ask me this question whether I intend to follow in my father's stead because it's fast becoming a generational business, considering the fact that my father took over from his father and now me. It is only natural that people ask this question. I am not the only child of my father, I have an older and younger ones. They also have as much right to work in MIC.As at today, I work hard for MIC funeral services and do all sorts of legal business that I manage on my own.
I happen to be someone who likes to do what God calls me to do. I wake up everyday and pray for God's will to be done and If it is God's will that I wear my father's shoes, I will do it and make sure that I excel, and my impact would be felt. Definiotely, my grandfather brought the business from A to B, while my father also brought it from point B to C and with the level of exposure today, I should be able to take it from there to D or even Y.
Morbidity
I have no reason to be afraid of the dead because someone comes to us to say he has lost someone. Our job is to pick up the body to the morgue and prepare it for burial. I have no cause to be afraid of the dead because I did not kill the person. Rather, what we have done is to take care of the remains and if the dead person can see, he would probably be thanking me for taking care of him.
I have no reason to be afraid of the dead because from the time I was born, I have not known any other thing apart from casket. I was born among caskets and there is no way that I will have nightmares. What cannot talk cannot have control over you, as long as one's conscience is pure and one is doing what is right. One does not have to be afraid.