Frank Donga, Vector, Folu Storms discuss Political Issues on MTV Base's Choose or Lose!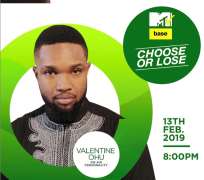 MTV Base's thought provoking special roundtable show, "Choose Or Lose", makes it's highly anticipated return and fans of the show are definitely in for a treat. Hosted by Folu Storms, MTV Base's Choose or Lose premieres on Wednesday, 13th February on MTV Base (DStv channel 322) and GoTv Channel 72 with some of Nigeria's most resilient voices.
Comedian Frank Donga , Nigerian Rapper Vector as well as On Air Personalities Valentine Ohu, Gbenga Aborowa, Actress Bimbo Ademoye and lawyer Akinyemi Law convene to tackle some of the topical issues on the minds of Nigerian youths and stimulate more citizens to participate in the upcoming 2019 elections.
The roundtable conversation revolves around six very important components to the lives of every Nigerian which are:Security, Technology, Entertainment, Power, Leadership and Healthcare.
As an essential part of MTV Base's "Choose Or Lose" election project, the aim of the roundtable is to motivate young adults to go out and vote by showing them reasons why voting for the right candidate is crucial to the development of the country.
Bada Akintunde - Johnson, the Country Manager, Viacom International Media Networks (VIMN) Africa, commented;"This year's edition of MTV Base's Choose or Lose franchise promises to be even more exciting and educational. The passion and knowledge showcased by the panel makes the show a riveting and engaging watch. It is our sincere hope that our "Choose or Lose" program will inspire the viewers to go out and perform their civic duty."
To join the conversation about "Choose or Lose" please use the hashtag #MTVBaseChooseOrLose or follow us on Twitter@MTVBaseWest
Watch the exciting trailer below: