UDEME UFOT TO CLIENTS, AGENCIES, MEDIA, COLLABORATE OR FACE STUNTED GROWTH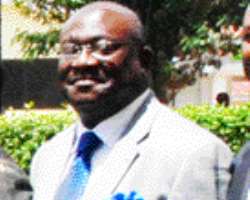 Ufot
'There is no doubt that there exists a symbiotic relationship among the three main groups that make up the advertising industry. Often referred to as the tripod, clients, agencies and the media operate in a structure where each affects the fortunes of the other. An otherwise mutually beneficial relationship that should be driven by mutual understanding and mutual respect is sometimes punctuated by tension and mutual suspicion as each group tries to assert its influence in the pursuit of its interests'.
Mr. Udeme Ufot, Chief Executive Officer, SO& U Saatchi & Saatchi made this statement at the 37th Association of Advertising Agencies of Nigeria (AAAN) Annual General Meeting (AGM).
He was one of the speakers assigned to discuss the theme of the AGM simply tagged 'Collaborating to enhance business growth; Client, Agency and Media'.
Ufot took on the tripod stakeholders of the industry, one after the other identifying their weaknesses backed by facts.
The naked truth steered at the faces of the triplet players. But would they make amends as recommended by the top notch ad man?
Excerpts.
…Describes the relationship
While the industry may be described as a tripod, the relationship among the three players is quite linear. At one end of the line is the client who requires marketing communications support to sell his products.
The agency produces the work and deploys through media. Agency and media depend on client budgets for survival. To earn this, they communicate the clients' products/services to consumers. The media is the channel for delivering the messages to the consumers.
At the end of the day, the objective is to ensure that the strategic communications objectives as packaged by the agency on behalf of the client are effectively delivered through the media.
Let us note that while this looks pretty simple, developments in the industry have tended to broaden the meaning of the term agency and media. For instance, the agency could be full service, it could be creative and strategy only, or it could be purely media.
The way we know media has also changed significantly with the advent of internet and digital technology. We would therefore need to be more broadminded in our description of media. But then, no matter how we choose to look at the players, the fact remains that smooth and effective relationships among the three sectors would enhance the operational effectiveness of each sector and make for a better advertising industry.
To make this possible, the three sectors must look inwards to resolve certain internal issues that I will share below. These issues impede the ability of the different sectoral groups to relate effectively with each other and optimise their performances.
…Shortcomings of clients
Low professionalism
Most clients today have huge problems with regard to quality marketing staff. The staff are poorly trained, low skilled, and inexperienced. Poor appreciation of the marketing mix affects their understanding of the role agencies play in their marketing activities. A strategic partner that should be treated with professional respect is treated as a vendor of marginal value.
Poor quality of brief
Low skill and inadequate experience impact on the quality of briefs agencies get, thus making the process of cracking the brief a most painful and sometimes futile exercise. It is sometimes akin to playing 'blind man's buff.'
Poor understanding of what agencies do and how they operate
Low appreciation of agency's role results in poor attitude to the partnership. This is reflected in levels of agency remuneration, and delayed settlement of bills. Sometimes client companies adopt unfair trade practices that are most inimical to the survival of their agencies. For example, many clients refuse to prepay for service while demanding up to 45 days credit that invariably becomes 180 days. Sometimes, clients just disappear leaving the agency struggling to explain to media houses and other suppliers.
Poor understanding of how agencies work (due to inexperience) leads to unrealistic expectations that further aggravate relationships on all sides.
Brand aanagers or contractor managers?
It is all the more baffling that while the above issues and more beg for attention, clients have chosen to add direct engagement with suppliers and media to their responsibility, bypassing agencies. brand managers invariably turn to 'contractor managers.'
As they negotiate and haggle with suppliers, supervise production processes for which they have limited expertise and time, who manages the brand? No wonder the briefs these days can be truly brief, bereft of any real substance that the agency can work on.
Graft
There are actually speculations that the direct dealings by brand managers with suppliers may not be unconnected with certain pecuniary benefits attending these relationships. These unwholesome practices further aggravate the relationship between clients and agencies.
….Sins of the ad agency
Poorly trained staff
Many agencies pay poor attention to staff training, whether in-house or through externally facilitated workshops or seminars. This results in low skilled and unprofessional managers in the agencies. It all gets quite combustive when ignorant agency managers engage with equally ignorant brand managers. It can also be very frustrating when knowledgeable brand managers have to engage with ignorant, poorly trained account managers, and vice versa.
Inexperienced staff
Staff of many agencies lack exposure and experience. They are low in self confidence, and poorly motivated. This adversely affects performance resulting most often in very mediocre delivery by the agency. Such situations erode the respect clients should have for the agency and further complicates the poor attitude towards the agency.
Poor negotiation skills
Due to poor business focus, low relationship and negotiation skills, managers are sometimes unable to negotiate a fair deal for their agencies. This becomes even more complex and frustrating when negotiating with procurement departments of the multinationals. For procurement, the focus is on cost cutting irrespective of what agency overheads may be. Sometimes, I think it is just mean spiritedness. Some clients probably have never heard of 'win - win.' Where agency staff are not mature enough to effectively manage these sometimes volatile negotiations, the result is bitterness and acrimony. Poor negotiation skills are also reflected in agencies inability to negotiate a good deal for clients with suppliers. Thus giving Clients the excuse for dealing directly with media and other suppliers.
Poorly structured agencies
Some Agencies are very poorly structured, with poor operational processes and systems. Consistent quality performance is thus compromised resulting in more loss of confidence and respect by client.
Poor financial management
Many agencies still live on margins, though fees are becoming more predominant these days. It is imperative that sound financial management be put in place to ensure monies meant for Suppliers and third parties do not end up in the wrong place.
Unwholesome practices
It is not uncommon to have account managers collude with brand managers or with suppliers to the detriment of the business. This gives new meaning to the concerns of Lord Leverhulme that he was sure 50% of his advertising budget was wasted. What he was not sure of was which 50%. If it were today, we would tell him for sure that it is the 50% that goes into private pockets.
…Media is guilty too
Poorly structured organisations
Professionalism is also lacking among the players in the media sector. From what I hear, many of our supposedly respectable media houses operate like fly by night businesses. Any structures or processes are only on paper, the reality is a different story. This impacts the morale of staff resulting in very low commitment to work. The staff are left to different devices in order to survive. For some of the staff, this inequity is cited as justification for shady deals, or simply defrauding their employers.
Poor marketing
Many of the media houses have no clear positioning relative to their readers. They are unable to communicate with any clarity their readership/audience profile. They pretend to be all things to all men. Planning them into a media strategy can be a nightmare.
No circulation audits
There is no clarity as regards print run, circulation figures or coverage. All newspapers claim to cover the entire country, and a cursory check on their circulation claims sometimes reveals blatant fraud. There is no independent circulation audit, no reliable data on readership profile.