2011 PRESIDENCY, I WON'T STEP DOWN FOR ANYBODY – IBB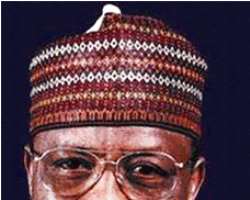 General Ibrahim Badamosi Babangida
Former military President and 2011 presidential aspirant, General Ibrahim Badamosi Babangida has declared that all presidential aspirants on the platform of the Peoples Democratic Party (PDP) would have to test their popularity to clinch the party's ticket. He vowed not to step down for anybody.
Babangida told newsmen in Abuja on Tuesday at the presentation of a book entitled: 'Aviation Systems Planning and Operations' written by Mr. Andus Ifeanyi Ozoka, held at the Shehu Musa Yar' Adua Center that he had no problem with the incumbent President, Goodluck Jonathan throwing his hat in the ring for the 2011 presidential primaries of the PDP provided the party provides a level-playing field for all the aspirants.
'Remember we are in a democracy and all of us aspirants would contest for the ticket. Whoever wins would contest on the platform of the party,' IBB submitted.
The former military leader denied that the North was divided over the zoning arrangement in the party even as some Northern politicians were already speaking in support of the move to jettison zoning in the PDP.
Babangida noted the divergence of opinion among the Northern politicians but said, 'it was not an indication of a crack in the North.'
'There is no crack division among the northerners. It is just a normal quarrel like the one between husband and wife which would be normally resolved. What you call crack within the North is normal in democracy. I can assure you at the appropriate time, it will be resolved,' he stated.
Babangida noted that the book, written by the aviation expert, had potentials to bring drastic solutions to aviation-related problems, particularly safety and security.
Babangida regretted the many dangers associated with the sector where several Nigerians including students lost their lives in air mishaps.
The book, a combination of academic tests for aviation planning, according to the reviewer, Senator Uche Chukwumerije proposed strategic safety and security measures in the industry.
Chukwumerije recommended the autonomy of Accident Investigation Bureau (AIB) to give it more independence for effeciency and effectiveness without interference from any quarters.
'AIB should be removed from the aviation ministry and be brought under the supervision of the Presidency,' he suggested.