HOW LITTLE ARTIST OMEKE GAINED ACCESS TO LONDON GALLERIES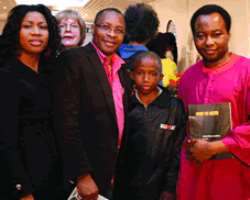 Omeke (Second right) being received by Nigerians in London
Little Johncross Omeke recently did Nigeria and his family proud when he came tops at the final leg of Access Bank sponsored Mirror The master's children art exhibition, The kid artist emerged winner on March 4, 2010 at the grand finale held at Nike Art Gallery in Lagos, following his victory at the Nsukka zone of the competition held last January.
Omeke, who has since toured the Burkingham Palace and a number of galleries in London, said he was grateful to the organizers of the competition, who facilitated his trip to London as part of the benefits of his victory.
At a ceremony organized recently by Access Bank and Kambani Arts to celebrate his return to the country, the 13-year-old artist from Nsukka, said he looked forward to becoming an artist despite his parents earlier choice of another vocation for him.
'I love to become an artist; although my father favours a discipline like architecture. He teaches me drawing', explained the young Omeke who said he never believed he could board an airplane so early in life. Explaining how he became winner of the competition, Johncross said he started practising how to draw the mask which represents FESTAC. He recollected 'On the day of the competition, I was happy because I was aware I could do something creative. Later, we were asked to produce our drawings and paintings. After this, the results were released and I was shocked to be named the overall winner.'
For his mother, Victoria, who accompanied him to Lagos for the ceremony hosted by Access Bank, her son's victory was a big surprise since she never knew he could win. Her words, 'when I heard about the competition, at Nsukka, I refused to attend, thinking it was just one of those childrens's events. Although I did not stop Johncross from participating, I just felt it didn't become a distraction for him. But when he (her son) asked me if I won't join him to London if he won, I got interested. And by the time he won, the news of his victory excited us and the whole family was happy. His father was also very proud of him.'
In the words of Omobolanle Babatunde, Head, Corporate Social Responsibility of Access Bank, the competition which aims at discovering young talents through art exhibition will continue if he intends to exhibit his paintings in the future. But the bank will frame all the 100 pieces of works collected during the competition as part of office decorations across the country'
Mirror the Master is an initiative mooted and designed by Access Bank in collaboration with Kabani Arts to create a platform with global reach for young talents with interest in African art to be inspired by the older generation. This year's edition was organized to celebrate one of Nigeria's leading pioneer artists, the late Prof Ben Enwonwu. The exhibition held variously at Benin, Osogbo, Zaria, Nsukka and Lagos.
Access Bank is reputed for its sustained commitment to promotion of African Culture through the arts, using such avenues as the Bonham's Africa Contemporary Art auction and the Art House contemporary art exhibition and workshops.