N100 Trillion Required Annually For Infrastructure – Mark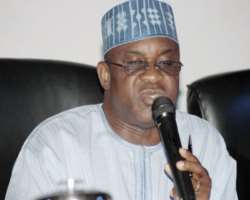 PHOTO: SENATE PRESIDENT DAVID MARK.
ABUJA, June 14, (THEWILL) - Senate President David Mark today said about a N100 trillion investment is required every year for infrastructure in the next decade of which N10 trillion would have to go into building of one million homes every year in order to put the country in a better position.
Mark disclosed this at the Presidential retreat on the first four years of the implementation plan for Vision 20:2020 at the Banquet Hall of the Presidential Villa, Abuja.
Meanwhile, National Planning Minister Shamsudeen Usman posited that for Nigeria to achieve Vision 20:2020 target, it would require about N32 trillion in investments to actualize the dream.
Mark, who was represented by Senator Saminu Turaki, said it has been estimated that Nigeria would have a shortage of 16 million homes by the year 2025 stressing that investments should be directed at infrastructure and must be executed in conjunction with the private sector, as government does not have the wherewithal to achieve the target alone.
There is no doubt that for this goal to be achieved, we will need private sector; local and foreign direct investment, as government does not possess the resources to do that.
We need to ask ourselves the question of where would Nigeria be 100 years after independence? Arising from these posers would be the need to put up institutions that can withstand the test of time as against ad hoc arrangements.
"It would involve planning and following up on the plans. It is also about the rule of law because investors will not want to have laws changed indiscriminately. That is for the next 50 years, the laws would not be changed? Nigerians need to agree on the dos and don'ts. For Nigeria to succeed we need government/private partnership," he said.
Mark however warned that "no one would invest huge capital in an atmosphere of uncertainty and instability where for instance any government can come and change the rules of the game. This calls for consensus building among the Nigerian polity of sacrosanct of contracts and agreements as the big issue is continuity in policies and agreement."
The Senate President raised eyebrows on the recent $35billion contract signed by the Nigeria National Petroleum Corporation (NNPC) for constructing a refinery in the country as according to him "it is known that China does not have the best technology in refinery but Nigerian engineers working in Houston and other places could do the same if the infrastructure agency can raise the finance for them to do it."
In his speech at the ceremony, Minister of National Planning, Dr. Shamsudeen Usman revealed that the estimated federally collected revenue from 2010 to 2013 was N16.3Trillion while the estimated investment for Federal, State and Local Government for the period 2010 to 2013 was about N19 Trillion naira.