Alternate Sound Lights Up Nairobi (photos)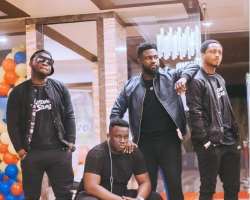 Africa's premium band Alternate Sound took East Africa by storm last week with mind-blowing live performances.
The first leg of the band's tour was a performance with Afropop queen Tiwa Savage at Redsan in Nairobi on the 15th of September. Following that was Alternate Sound Live, a solo concert at Kiza, Nairobi, on the 22nd of September. Both shows were packed with energetic fans singing and dancing along to the band's tunes. Notable Kenyan celebrities who came out to support the band include Noel Nderitu, Mustafa, Dj Charlie, Dj Tbone, and GQ dancers.
There's no denying that Alternate Sound brings an incredible energy whenever they perform, and It was a huge thrill to see fans getting on the stage to dance with the band. Definitely anticipating their next concert.