CRISIS ROCKS CNPP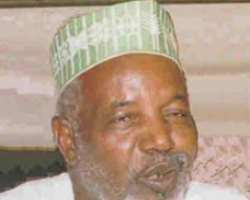 Alhaji Balarabe Musa
Cracks seem to be appearing on the wall of the opposition parties under the aegis of the Conference of Nigeria Political Parties (CNPP) as its Chairman, Alhaji Balarabe Musa, disassociated himself from a press conference addressed by its General Secretary, Mr. Willy Ezugwu on a matter that concerned the House of Representatives Speaker, Mr. Dimeji Bankole.
Last week Thursday, Ezugwu addressed a press conference in Abuja threatening court action against the Chairman of the Economic and Financial Crime Commission (EFCC), Mrs. Farida Waziri, alleging that she was shielding Bankole over the allegations of financial impropriety levelled against him by some members of the House of Representatives.
But in a telephone interview with Daily Sun yesterday, the CNPP chairman dissociated himself from the press conference stating emphatically that the arrangement did not follow due process.
Musa, who admitted that; 'the secretary truly informed me about the development and wanted us to do something,' said he told him it was too early to pass comments without first of all studying the situation critically before making an informed comment.
According to him, a date was suggested to the secretary for a meeting where the issue would be discussed, but to his dismay, 'the secretary went ahead to organize a press conference without my approval.'
The former civilian governor of the old Kaduna State, who described the arrangement as anarchical explained that 'in any organized association, it is the chairman that will instruct the secretary to call a meeting and not the other way round,' asserting that 'anything contrary to that will amount to calling for anarchy.'
Musa, who is also the leader of the Peoples Redemption Party (PRP) said the National Assembly matter was not the primary responsibility of the CNPP, but primary responsibility of agencies like the EFCC, informing that 'the primary responsibility of the CNPP is to strengthen the opposition with a view to winning power to liberate the people of Nigeria from bad governance.'
Against this background, Musa saw no reason in rushing to the press over the National Assembly crisis without studying the situation very well with a view to dishing out well informed comments that could not be faulted, wondering why the haste in rushing to the press when there was ample time to do so and do it well.