OGHENEKARO Itene Lands HAPA Ambassador Role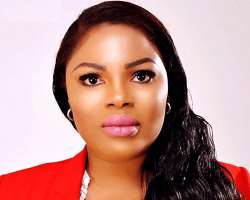 Nigeria's rising Hollywood actor, Oghenekaro Itene has landed another landmark in her journey to score a sterling point in the American movie industry with her recent announcement as the official ambassador for the Hollywood and African Prestigious Awards (HAPA). She represents the African diaspora.
Oghenekaro is currently filming her debut movie in Hollywood titled 'Chase' where she plays the role of Jayla. The movie is written and directed by Michael Matteo Rossi, co-produced by Michael Matteo Rossi and Katrina Y. Nelson.
Oghenekaro balances three careers, one as an actress, a Makeup Artist - the creator/CEO of Kadia Makeovers and a philanthropist. Some of her notable features include 'Shattered Mirror' a feature film directed by Lancelot Imasuen Oduwa, 'The Prodigal' and 'Esohe' by Charles Uwagbai . She has also featured in some prominent series including, 'Lincoln's Clan' and 'Tinsel'.
Billed for the Alex Theatre in Glandale, California on September 30, HAPA is produced by Founder and Executive Producer, Ms. Tina Weisinger of 'I Dream 4 All Foundation'. This visionary continues to raise the bar creating synergies and bridging gaps with both cultures by recognizing pioneers in the movies, music and comedy industries. HAPA will celebrate outstanding achievements of artists from various entertainment genres with the vision to continuously blend the richness of African cultures and the beauty of America to promote
In its second edition, HAPA will showcase the grand awesomeness of African royalty merged with the affluence of Western connoisseurs. It successfully celebrates the best of two cultures in 32 categories.
In the 'Oldies but Goodies' category, along with nominees are Anita Baker, Stevie Wonder, Diana Ross, The 5th Dimension and Charles Wright. Borrowed by Dr. Dre, Madonna and Diplo; sampled looped by N.W.A. and themed by the NBA, Charles Wright's 'Express Yourself' has touched the lives of generations since 1970; being deemed the most licensed song.
HAPA 2018 will be compered by the Tyrone DuBose, an iconic R&B historian, radio host, motivational speaker and philanthropist.