FATHIA BALOGUN FIGHTS ASHAYE, AKINDELE, FILANI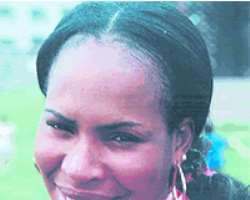 Fathia Balogun
Fathia Balogun is in the news again. Yes, the ex-wife of Saidi Balogun is the hottest topic in Nollywood. She is not in the news for her separation, neither is she in for her alleged peace overtures to her ex-hubby. She is not making headlines for her movies either. She is in the news for allegedly picking fights with fellow actresses.
First Fathia fought Peju Ashaye.
She accused her of dating Alhaji Abdulahi Lateef, CEO of Corporate Pictures, the man she is allegedly dating. Fathia called Peju on phone and warned her to stay off her man. Peju who is seen as a 'junior' to Fathia was shocked that Fathia could descend so low and threaten her on phone.
In response to her threat, Peju granted an interview to an online publication saying Fathia does not have the right to tell her who to date or not. Said she : 'Anyway I don't step down for anybody. I don't believe anyone can threaten me and she has not confronted me physically.
Though I hear several stories but I am not convinced she was referring to me. It is a free world and everyone has the freedom to do anything at his or her own particular time. I don't owe anybody an explanation on who I am dating. If you believe me fine and if not it is just too bad. I am trying as much as possible to be professional and I am a lone ranger. I can be close to Corporate Pictures boss for any reason. Moreover the man is not her husband. He is not Saidi Balogun. Fathia is not his wife.
So she has no right to attack me over issues concerning him. She has no right to harass me. Everyone is doing business with the man. He is marketing my movies and nothing else is between us but I would not be cowed by anyone based on stories that I am dating the man. Fathia would not choose who would market my movies for me. It is absolutely my prerogative. Corporate Pictures has been there for a very long time even before she joined the industry. It will continue to market my movies and nothing will take me away from the company'.
Not yet done, she moved on to Mosun Filani who is fast gaining prominence in the industry. She accused Mosun of telling tales of how she used to borrow shoes from Flakky Idiowio, another actress. Despite the assurance of another actress that Mosun never did that, Fathia was said to have quarelled with Mosun on Muyiwa Ademola's set.
Now, she is spoiling for war with Funke Akindele for an undisclosed offence. She is said to have gathered fellow actresses in the war against the Jenifa producer. A source even told us she vowed to snatch Femi Adebayo from Funke when the talk was rife that they were dating. Now that it is clear they are dating, Fathia is planning on ways to instigate younger actresses against Funke.
SBN called Fathia twice, but her PA picked the call and promised to get back to us. He never did.
Fathia is said to be antagonising these actresses because she sees them as threats to her career and despises them because they don't defer to her like other actresses that call her Igwe.