ALEXANDRA AMEH: WAITING TO EXCEL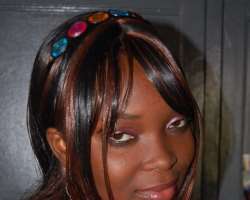 She is one of the aspiring actresses on the bloc. She is cute and has an amiable mien that will even make Angelina Jolie, the Hollywood screen diva green with envy. She's called Alexandra by friends but this eloquent and very promising lady who is waiting to excel will rather prefer to be called Alexy by her fans.
Though, she's already making grand preparation to launch herself into the esoteric business of acting, notwithstanding, her moves towards that path has been commendable. This graduate of University of Ilorin is poised to take over from the existing big names in the industry with her articulate disposition and her sense of script-interpreting. More on her after this timeout.