DEJI'S ONLY OPTION IS SUICIDE – CHIEF ALEX AKINYELE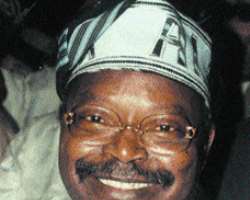 Chief Alex Akinyele
Going by the time -honoured tradition of the Yorubas and palace culture,the former Minister for Information, Chief Alex Akinyele says the only option left for the deposed Deji of Akure, Oba Oluwadare Adepoju Adesina is to commit royal suicide . According to him, a Yoruba oba must not be disgraced.
In an interview with Sunday Sun in Lagos, he said that the Deji should have just opened a calabash in his palace and die quietly: 'The calabash contains a parrot egg. When he opens and looks at it, he will die. That's royal suicide. It's better than the show of shame and disgrace he is facing now', chief Akinyele said.
He went on and outlined the things a Yoruba Oba must not do:
Next to God
In Yorubaland, the oba is above everyone else. He is revered - everybody respects him. From his traditional cognomen, you will know how he is regarded. We say ka-bi-yesi. It means nobody can question you. Whatever you do, you do it with impunity.
The oba in Yorubaland is also called 'orisa keji', meaning second in command to the supreme deity. When you say God, the second person is the Oba. You can see how highly placed he is.
We go on to say Iku baba yeye- the person who can pronounce death on his father and mother. That's how the Yoruba's esteem their kings. Being in that super- mundane situation, so much are expected of the oba.
Must not eat out
In the first place, an oba must not eat in public. For instance, in Ondo we
Say, 'Eruo oji mama', the mouth that pronounces death and honour, is not the type of mouth that will be seen by anybody. That's why their crown covers their mouth.
Must not offend his subjects
An Oba must not engage in an activity that will make people around him to raise eyebrows. You can't abuse an Oba. The only way you can accept what the Kabiyesi has done is 'mmh'. It may mean approval or disapproval. You must not show that the Kabiyesi- the man who cannot be queried that you resent what he has done. But an oba must not offend his subjects. The reason is that he is basically above them. He must therefore not go out of his way to annoy or offend them.
Must not commit adultery
An Oba must not commit adultery. The reason behind this is that there's nobody so bold to come close to the Oba's wives. To reciprocate this, the Oba must not commit adultery .We keep Udeso (eunoch) in the palace. An Udeso is a castrated man. He is the only man who can see the Oba's wives.
Must be groomed in the palace
An oba must not do things, which common men can do. Oba's grow up in the palace. With this, an Oba must be groomed in the ways of the Yoruba tradition. And as the tradition goes, Obas must grow within the palace. Living in the palace, they will be groomed in the culture, tradition and ways of the palace. So when they become an oba, they know how to behave . In Yorubaland, unless you are an Omo n'oba, you cannot become an Oba. You must know these things from the beginning.
Must not expose his head
An Oba's head must not be exposed. Even in the churches- Catholic, Methodist and so on, they grant them the indulgence of covering their head with a white cap. Their head must never be seen, they don't have to wear their crown to church. They dare not leave their hair open.
When an oba cannot eat in public, expose his head, offend people or abuse them, how then can he engage himself in public brawl? It's a sacrilege.
Royal suicide
But if the Deji of Akure were like other obas in the South- west- even Benin, there's a calabash in the palace, once he opens the calabash, he will die automatically. An Oba is not supposed to see disgrace like the Deji of Akure. In our history, a lot of Obas have taken that way to exit and avoid disgrace.
You can't take an Oba to court or sentence him to serve jail term, if you try it, before you say Jack Robinson, he will go into the palace, open the calabash and die. So, they prefer dying honourably. Nobody will querry them and they must not see disgrace. It's more honourable to commit suicide and go.
And when an oba dies like that, he is buried with full traditional honours. There was a time an oba was sent to exile. Yes the case of Oba Olateru Olagbegi of Owo. He was more of a political oba. As a result, he clashed with his people- the opposition. The opposition sent him on exile. He knew it was temporary. He later came back to rule in Owo.
He died on the throne. By returning and dying on the throne legitimizes his royal descendant and lineage. But even if he had died in exile, his children might still become kings. For instance, the father of the current Alafin of Oyo died in exile here in Lagos. His son Lamidi Adeyemi is there now. By reference, Lamidi: Adeyemi is an epitome of what a Yoruba should be - in dressing, behaviour and so on. He's an awesome kabiyesi. He will not do any that will make anyone to look down on him.
He inherited all these from his father. When Yoruba obas get involved in politics, they can experience any disgrace. I remember the Odemo of Isara. The government of Awolowo reduced his salary to 1 kobo per annum. He didn't die. He knew it was temporary. That's why our Obas are very careful about being politically active. They know that the government of the day will rubbish them. Wise Obas don't go into politics. When they get involved in politics, people in the opposition can abuse them. But an Oba must not be abused by anybody.
Role of Oba's wife
The role of Oba's wife, the Yeye Oba is to coordinate the activities of women in the city. She is the only one who can quietly correct the kabiyesi. As his wife, all the domestic responsibilities expected of her, she will do them. She is the domestic head of the palace.
In Ondo, when an oba dies , his wives remain in the palace. So, there are so many women in the palace. The Olori , the wife of the kabiyesi is their head. She looks after them, makes sure they eat well, wear good clothes and so on. But these days- in some Yoruba setting, when an oba dies, and if the women are still young , they can leave the palace. When they go, they are no more the responsibility of the reigning monarch.
But if the Olori is angry and leaves the palace, the oba will send some chiefs to go and bring her back. There are high chiefs who will go and bring her back. Infact when they are going, they will go with the Oba's horsetail. Once they give it to her and tell her the oba sent them to bring her back, she won't dare refuse. The horsetail does not sleep outside. So, she or anyone so compelled must come and see the kabiyesi. This is the way, the Deji of Akure should have been able to reach his Olori Bolanle and not that shameful public display.