RUN AND RUIN NIGERIA – SHEHU SANI WARNS JONATHAN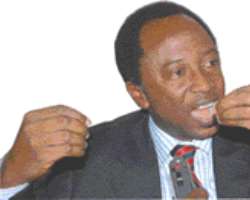 Shehu Sani
Comrade Shehu Sani, President of the Civil Right Congress, (CRC) is not a dreamer. He is a straightforward and astute activist who tackles issues without passion. For long, he has been against the northern oligarchy on account of their bourgeois attitude.
Today, however, his support for a northern candidate in the 2011 presidential poll is with a passion; the reason being that President Goodluck Jonathan is according to him 'overstretching his good luck'. He says the President should not play God with the issue of zoning in the Peoples Democratic Party (PDP.
In this interview with Sunday Sun, Comrade Shehu Sani dwelt extensively on issues of national concern.
Excerpts…
From the point of view of the civil rights group, what is your perception of the political situation of the nation?
Well, we should first of all be grateful that we have been able to overcome the initial artificial crisis that was created as a result of the sickness and the invisibility of President Umaru Yar'Adua. It is a nation that is recovering from that unnecessary crisis. All said and done, we are now saddled with a leader who is learning on the job. It is his first outing in terms of being in charge of the steering.
He is someone who has always been the shadow of other people. He is for the first time visible and all the myth about him, I believe, is also going to be visible. We have seen a new President that has started on a very wrong foot and this has to do with issues that are contentious that he should have actively addressed. There have been a lot of false impressions when one talks about him creating changes in the society, transforming Nigeria, bringing about changes and making a difference. But it is all clear now that it is simply business as usual. In fact, it is even getting worse. We used to have a president that we could not see.
Now, we have a president that we can see and then he is doing nothing. There has been no difference with him there. It is clear that we are now having a leader; but what necessary changes can we see on ground to justify his being there. First of all, his first fundamental mistake was to either overtly or covertly show that he is more of a student of President Olusegun Obasanjo. Secondly, he is bringing back to governmental fold the former discredited members of the Obasanjo administration. He has also demystified himself by showing that he is simply an ambitious man. And I can say this. First of all in his own maiden address, he made it very clear that he is going to fight corruption. And all that we have gotten from it was withdrawal of charges for Ribadu and then soft landing for El-Rufai. Anti- corruption war in Nigeria has always been marked with selfish motives and intentions.
Under President Olusegun Obasanjo, the war against corruption was simply about selective Justice. Under Umaru Yar'Adua, it is about shielding corrupt men or shielding some certain corrupt officers and then under Jonathan, his own philosophy is that of withdrawal and  soft landing. I don't believe any of these things can solve the problem. His second wrong step was the setting up of the hatchet group called the PDP reform committee. This group of people has now been joined by the likes of Ojo Maduekwe, Fani Kayode and El-Rufai. We all know the political antecedents, the views and also the background of these kinds of people. They are simply Obasanjo's people.
How do you know they have the backing of Jonathan?
It is all very clear that their own demands are being acceded to, which is first of all, the removal of the chairman of the party, Vincent Ogbulafor. It is over a sudden wake up of corruption allegation against him over 10 years ago. And then you also have them being given presidential treatment; I mean sit down with the Vice President in the name of reconciliation with the other elected members of the party. And it appears the whole party is held hostage and everyone is at a gun point to either accept Jonathan or else corruption charges will be raised against you if you have an outstanding one. And also, we have seen the failure on his side.
The caliber of people he has appointed as Ministers are not different from the ones appointed by Yar'Adua or Obasanjo. It is still the same business as usual and this goes very well with the fundamental mistakes of the civil society groups. Each time there is an intra- class war within the people of the ruling class, we seem to simply take one side in the belief that there is going to be change. But each time they step in, they simply ensure that they preserve the socio-economic and political interest of their class members. It was thought that when we have a Jonathan Goodluck in power, we would see the likes of Falana, Olisa Agbakoba and Wole Soyinka in government. But this is not the case. The old system of calling on governors to nominate people is still in vogue. It is still business as usual. They are still scared of those forces that help them to be in power.
What is your assessment on the countdown to Jonathan's presidency beginning from when the president was ill, how he was brought in, how he was flown out, the drama at that particular time. Some of you were very quiet. We expected the civil rights group to be very vocal.
You talked about cabal. Every government has its own cabal. Under Shagari's time, the cabal was led by Umaru Dikko. Under Babangida's government, the cabal was led by Halilu Akilu. Under Abacha's government, the cabal was led by Hamza Al-Mustapha. And then you have the likes of Magashi leading the Abdulsalam's Cabal. Then you have the likes of El-Rufai, Okonjo Iweala, Ezekwesili, Femi Fani- kayode or Ribadu. In his own wisdom, Obasanjo doesn't call them Cabal, he calls them economic team.
So Tanimu, Abah Sayyad Ruma were the so called cabal of Umaru Musa Yar'Adua. But you cannot remove Jonathan from that Cabal because he has never for once demonstrated any objection to the policies, to the programmes and he has never voiced out any issue that clearly shows that there is a conflict between him and Mr. President. During Obasanjo's time, it was very clear, Atiku had the courage to stand up against Obasanjo and even when he was removed out of office and when they were out of power, everybody knows that he had the courage and the boldness to speak out. But Jonathan Goodluck did not.
But would that kind of confrontation have been good for the polity when there was so much of upheaval in the seat of power? It almost vibrated the country.
There was no vibration in the country at all. All that happened was that it was a power struggle between those who were benefiting from Umaru and those who wanted Jonathan to be in power so they could also take over what other people were benefiting from. The struggle to remove Umaru was not about the people. It wasn't about the socio-economic and political situation in the country.
It was simply about control of power and resource and the privileges attached to it. All those who were desperate to see that Umaru goes, if they knew very well that the man was going to die some few weeks after, they would simply have rested. All they were afraid of was that if the man returned to seat, he might take vengeance on them. So, we shouldn't make any mistakes about it. The nation was not leaderless. There was no doubt about it. If Jonathan had solidly stood behind Umaru, there would have been no rift between him and Umaru's people.
You have been harping on the Jonathan/Obasanjo relationship, what evidence do you have that whatever Jonathan has done so far is like the hand of Esau and the voice of Jacob?
First of all, look at the composition of the Ministers, you will simply discover that it is still the same business as usual. In the realm of Ministerial nominees, you'll also discover that it is not all about nominations from the governors. And then after the 36 nominations, you still have more people coming on board. It's either the son of Mr. A or the wife of Mr. B. So, systematically, the system of Obasanjo is still there like any other person. Secondly, I can tell you that the withdrawal of charges against Ribadu and the so-called trial of former ex- Minister, Nasir el-Rufai was a clear betrayal of the Nigerian people.
We have seen how the EFCC shouted hoarse that Ribadu and el-Rufai were wanted. Interpol has been given directive to arrest him and that there is alert at the airport waiting for el-Rufai to be arrested. Then the man came to the country and was give a red carpet treatment. He was not arrested. All we heard is that he is in his house. Then, he stayed for three days and no one invited him. It was not the same way the EFCC treated Boni Haruna, Saminu Turaki, Orji Uzor Kalu, Alamieyeseigha and all those who were standing trial before the commission. These people were arrested, hounded and in some cases, humiliated. We have a discriminatory approach to the corruption war by the EFCC. This idea of withdrawing charges against Ribadu is not helping Ribadu and is not helping Jonathan because any government in the future can simply dust it up and start.
It is in the interest of Ribadu that he stands trial for issues that are being alleged against him and then he does away with it in court once and for all. I was nominated to serve at the Police Service Commission. But when I went to meet those people at the Senate committee, the reason they adduced for dropping my name was that I have served so many times in jail and that I may be vindictive to Nigerian Police. Can you imagine that nonsense? Also remember how my nomination into the police service commission caused a division within the Senate. So, what I am saying clearly is that you cannot, out of about 350 officers that have been demoted, that have also, in quote, unjustly been downgraded, simply single out one person. Ribadu has done a good job as anti-corruption fighter; but we cannot forget what happened under him in EFCC. EFCC under Obasanjo was an instrument of violence.
It was used to illegally impeach governors. It was used to pursue perceived enemies of the administration. It was used to haunt people who Obasanjo doesn't like their faces. Now you can see that Obasanjo is in charge now. And then another one is the leadership of the PDP. Vincent Ogbulafor is clearly known. I have never met the man. I do not even know who he is. It clearly, shows that he is not a friend of Obasanjo. By his utterances, he made a categorical statement that by 2015, the zoning formula for the party still remains.
But who do you think are the cabals in Jonathan's administration?
The cabals of Obasanjo are also the cabals of Jonathan because you have seen what they are doing at the PDP Reforms Committee. You see, the Obasanjo's group has a cunning way of approaching issues. They know how discredited they are. They know the public's perception of them. Each time they want to fight a cause, they make sure they put credible personalities in the front. And that is why in Save Nigeria Group, you will see credible people like Pastor Bakare, Femi Falana and Wole Soyinka and then behind, you will see the likes of el-Rufai. And then in the PDP Reforms Committee, you will see credible personalities like Masari, Ken Nnamani,  and Raymond Dokpesi and in the back, you will see Ojo Maduekwe and Fani kayode and other people. So, this is their own strategy. So we should not deceive ourselves.
And what does this portend?
It portends a lot of danger especially on the issue of cancellation of the zoning formula because that is what they are. Their main objective is to take control of the party, abrogate the zoning formula and ensure that Jonathan becomes the President from now to 2015.
Now let's look at elections. The President has always been saying that there will be free and fair election. Do you believe him?
First of all, the expectations of Nigerians is to see to it that within the very first few weeks he is in power, he does everything possible to ensure that the Uwais' electoral reform report is implemented. But he is more or less telling us that he is appointing a chairman of INEC who he never knew and who he never met. I think the question we are going to ask him is: has he also met or has he known who is going to be the presidential contender of PDP by 2011? I think this are all issues.
We can commend him for not knowing, for not meeting who is going to be the chairman of INEC. These are all questions we are going to ask ourselves and then another thing we should also do is that, Jonathan is betraying the very documents to which he has appended his signature and which was splashed on the pages of the newspapers. That document says there should be rotation between the north and the south.
(Do you believe we are likely to have a free and fair election in 2011?
If Jonathan is going to contest, the chances of having a free and fair election is 99- 1. And if he is not going to contest, he is going to impose a candidate on Nigerians.
Can you explain this your formula?
What I am saying is that I don't see the possibility of Jonathan contesting election and then losing. It is not going to be possible. It has never happened in the history of Nigeria .
Even if you have a credible INEC? Credible people in INEC?
Well, you can have a credible personality heading INEC but if the laws and the mode of operation of INEC are not credible, there is nothing that can happen.
Which of the laws are not credible?
These are the laws that were changed by the Uwais panel and one is fundamentally the mode of appointment of the INEC Chairman and also the resident electoral commissioners. And so you can have a Wole Soyinka as chairman of INEC and then the elections will be rigged because what was very clear is that he is going to be one out of thousands of people that are going to work; out of people that are also in control of governors. PDP is the largest in terms of the control of the Senate, the House of Representatives and also the State.
Jonathan has not told anybody that he wants to contest. Why do you think that he wants to contest?
He has already created the atmosphere for people to express such a belief. He has not said he is not going to contest either. He has not also said he is going to contest. So people who are criticizing him for having an ambition are right because he has not called those calling on him to contest to order.
What do you expect from a Jonathan Presidency?
My expectation of Jonathan is for him to be a man of honor and integrity. But first and foremost is to divorce himself from the influence and the domineering presence of Obasanjo in his own administration. And secondly, is to take a clear cut position as far as he is concerned as an independent person by ensuring that the constitution is amended and the electoral reform laws are passed and then he conducts free, fair and credible election and then hand over to the next person who should take over the reigns of state and he should then become an international statesman that will be well respected. But he should not deceive himself that in the next 11 months, he is going to get all our roads in order, our electricity 24 hours and right all the wrongs that have been done.  I think the fundamental issue before him now is to see to it that we have a smooth and credible transition from this government to the next.
But the constitution guarantees him the freedom to contest. Why do you think he should not contest?
This brings us to the issue of zoning. The constitution says Jonathan can contest an election. That is fine. But he has an agreement which he has signed which he also must honor, which has also gone down with Nigerians. Many people have challenged me that we should move beyond zoning and move and simply insist on merit. And I challenge anybody to tell me where is merit in the constitution?
Where is merit in the electoral laws? Where is merit in partisan politics? Gani Fawehmi of blessed memory contested election with Obasanjo and Obasanjo in quotes won. Does it mean Gani has no merit? There is no place for a man of God in the constitution. Pastor Chris Okotie contested election with Obasanjo and Umaru Musa Yar'Adua and he being a man of God lost the election. There is no place for a credible candidate in the constitution to win elections or in our electoral laws.
Balarabe Musa contested as a presidential candidate of PRP, and he was defeated by Obasanjo. That does not mean that Balarabe Musa is not credible. Jonathan was a deputy governor from the position of zoning and then he became a governor from the position of zoning and he became a Vice President from the position of zoning and he became an acting president from the position of zoning and he is now a president because there was zoning. Secondly, Masari, the former Speaker of House of Representatives, who is a member of the zoning committee, who is opposed to the issue of zoning was a speaker only because it was zoned to north-western Nigeria. Ken Nnamani was not elected as President of the Senate because he merited it or he is credible. But he became Senate President because the office was zoned to the south-eastern part of Nigeria. We have zoned all positions.
Why must Namadi Sambo be appointed as Vice President? Why must we zone the position of Vice President? If we say zoning is not necessary and there is no merit in zoning, why can't we make Deziani Allison Madueke, the Minister of petroleum the Vice President. Lets make her a vice president of Nigeria and see if there is going to be peace in Nigeria. You have zoned the position of secretary to the government of the federation to the North - Eastern part of Nigeria. Bankole is there by zoning. Yayale is there by zoning. David mark is there by zoning. The chairman of INEC is there by zoning.
Nigerian army recognizes zoning and they have zonal offices. Even the Sun newspaper has zonal offices. The Nigerian Television Authority has zonal Offices, Federal radio corporation, even, AIT led by Raymond Dokpesi, a member of the reforms committee, has zonal offices. Nigerian Immigration, Nigerian customs service, Nigerian police, National Drug Law Enforcement Agency, all have zonal offices. Now you cannot say we should remove zoning from the position of the president while you have denied other Nigerians who are credible the right to be vice president and the zoning to the North-West. Right from history of Nigeria, even military dictators do observe zoning. Tafawa Balewa is from the north. Zik is from the south. Shagari is from the north. Alex Ekwueme is from the south. It is all zoning. Who do you call him? M.K.O. Abiola is from the south. Babagana Kingibe is from the north. Jonathan Goodluck and Umaru Musa Yar'adua, ticket was along zonal lines. Atiku, and Obasanjo ticket was a zonal one.
How many of these people that are saying there should be no zoning have spoken out during the Obasanjo administration. How many of them spoke out when Obasanjo used the EFCC to destroy Odili's electoral campaign group and handed over power to Umaru Musa Yar'Adua. If Jonathan Goodluck is opposed to zoning when Obasanjo brought him as representing the zone of south-south, he should have turned it down and say he is not going to be there.
But the zoning arrangement is more of a party affair. It is not a constitutional matter and it's not a law. It's just a gentleman's agreement within a party. Why do you want to see it as a national issue?
Let's be realistic about it. We have a party that is in control of almost about eighty percent of the country. And the presidential candidates they are going to nominate are not going to be the president of the PDP. He is going to be the President of Nigeria. That is where I come in. I am not a card carrying member of the PDP. But he is going to be my president. I believe I have a say. If you say we should say nothing about what the PDP is doing, then even the press should not speak about it because you are not members of the PDP. But we must be concerned because it's very clear that this person here is in charge.
All I'm saying is that, if we are going for merit, there is also no merit in the constitution, no credibility in the constitution. It is all not there. Any corrupt person can contest an election and win. In a state in the north-west, there is a man who was implicated in Abacha's money laundering issue. He won election into the Senate. That election was free and fair. It was also confirmed by the court. So where can electoral policy bring to you a credible, or a God- fearing man, in quotes or a man of honour. So, the electoral political scene, is not a place where you have saints, and angels. But all we are saying is that, this idea of having eight years in the north, eight years in the south have solved a lot of problems in the sense that, we have cried of marginalization.
The major cause of the Nigerian civil war was simply about the domination of the south-eastern part of Nigeria by the northern region. If we maintain this zoning formula and we have one day an Ibo man, whether in the person of Alex Ekwueme, or Emeka Anyaoku, standing up at Eagle square, raising his hand, and raising a Bible and saying 'aye', that has brought an official end to the Nigerian civil war. But as long as you change the rule of the game in the middle of the game, I think that would be a recipe for crisis.
If I got you clearly, what you are saying is that if the zoning arrangement is not respected there may be no peace in this country. Would that be right?
There will be peace in the beginning, but it's going to cause a lot of problems in the future. This is because by the time Jonathan takes over the reins of power after 2011, and then it's 2015, I don't think the people from the south-east will simply fold their arms, and see power shift to someone other than a person from their own end. We must accept this fact that yes, we are Nigerians but we are not French people whereby every person is French. We live in a nation that is underdeveloped with low level of literacy and political advancement.
We have people who are about 350 divided in their ethnic groups. We have people who have strong affinity to their ethnic, religious, and sectional groupings from their part of the country. We should also not forget what we have started; what brought about this idea of turn by turn. It was simply about the domination by the north. Now what would have happened if it were a northerner in power that simply looked at the south and say henceforth, majority votes will dictate who is going to be the president. Nobody is going to accept it. I have never been to any ACF meeting. I'm also never a member of the northern oligarchy, or political establishment. I've spent the rest of my life fighting them for their own policies and programmess and visions.
I have been in jail during Buhari's regime for fighting him, I've been in jail during Babangida's regime for fighting him, I have been in jail during Abacha's regime for fighting him and we are also on the streets. I was in Port-Harcourt prison when Jonathan Goodluck was lecturing in the University of Port-Harcourt and when Ken Saro-Wiwa was hanged in the same cell. I heard the cries of the people in the gallows. I saw how the Ogoni nine were all lined in a bench and hanged one by one. So, no one can say my views are simply sectional because I have a track record of fighting Northern leaders and I'm saying here that it's not justified for us to have changed this. There is nothing wrong with Jonathan. I will wish he succeeds. I wish him well. But there's everything wrong with Jonathan if he allows the people around him to beat his drums, sing his chorus and at the same time lead him to where they led Obasanjo and led him to where they also led Umaru Yar'Adua.
If we want to have sanity in this process, I think there is the need to replace one oppressor with progressive and genuine democratic elements in the country. In that case, we'll have to look at every house, every village, hamlet, every town and every city by mobilizing the people to capture power. There will only be fundamental change in Nigeria if you have the real forces of change in power. When you have the likes of Balarabe Musa as the president of Nigeria, you know that you are having a change. When you have the likes of Olisa Agbakoba in power, you know you are having a change.