Surge In Purchases Causes Temporary Crash On Ticketing Site For Burna Boy's Us Tour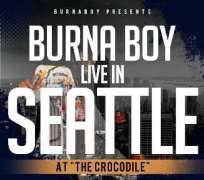 On the 8th of June, 2018, Burna Boy's 'Life on the Outside' tour put on an amazing show at the Bottom Lounge for the Chicago leg of the tour. Having witnessed Burna's amazing performance, the crowd was beyond thrilled and eager for more.
While the tour team remains excited about the outpouring of love for the star and the tour so far, the surge in ticket purchases for the Seattle stop was unprecedented. The amount of requests coming in caused the site to crash temporarily, but the issue has been resolved and the site is fully operational again.
The Life on the Outside tour has seen Burna Boy travel by road on a tour bus to various popular cities in America. So far, he has performed at Washington, Philadelphia, New York and Chicago, and is now set to thrill his Seattle fans.
The Seattle leg of the tour will be hosted at The Crocodile on June 12th, 2018, and you can purchase your tickets at www.onaspaceship.com
Check out pictures from Chicago below.
Photo credit: @tjaiye.photos