KILLERS OF US AID WORKER ESCAPE SUDAN JAIL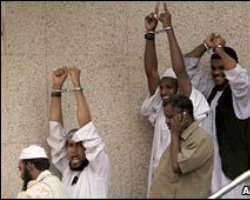 The four men said their confessions had been obtained through torture
Four men sentenced to death for the murder of a US aid worker and his driver have escaped from prison.
A police spokesman said the men had managed to get out through the jail's drainage system.
The aid worker, John Granville, who worked for the US Agency for International Development, was shot dead in Khartoum two years ago.
The Sudanese authorities said the men convicted for his killing were Islamist militants.
Mr Granville, 33, and his Sudanese driver Abdelrahman Abbas Rahama were killed as they returned from a New Year's Eve party in 2008.
The four men escaped from Kober prison late on Thursday, police said.
They were on death row after being found guilty of the double murder last year and sentenced to death by hanging.
However, they had always protested their innocence, saying their videotaped confessions were extracted under torture.
Their appeals were turned down earlier this month.
A Sudanese lawyer for the Granville family said: "The authorities have assured us they will continue searching for them."
Bookmark with