DEADLY CLASHES IN KYRGYZSTAN'S SOUTHERN CITY OF OSH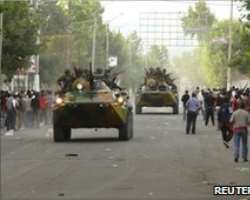 Officials say the shooting has stopped
At least 17 people have been killed in clashes in Kyrgyzstan's second-largest city of Osh, health ministry officials say.
At least 200 people were also injured when hundreds of youths fought in the streets of the southern city.
Officials say a state of emergency has been declared and armoured vehicles have been sent to the city.
The interim government has been struggling to restore order after a violent uprising in April.
Continue reading the main story
I call on you to show restraint, calm down and refrain from any hasty actions which may lead to casualties
Roza Otunbayeva
Interim President
Since then, there have been fears of an upsurge in violence between Kyrgyz and ethnic Uzbeks in the south.
Osh is home to a large ethnic Uzbek community, and is the power-base of the ousted president, Kurmanbek Bakiyev.
According to local reports, fighting broke out between rival gangs and developed into gun battles.
Reports from Osh said that a number of buildings, including cafes, a local TV channel and a theatre were ablaze.
Fears of violence
It is not clear who is behind the violence.
It appears that the majority of the properties belonged to ethnic Uzbeks.
Firefighters tried to put out the fires, but angry youths reportedly threw rocks to prevent them doing their job.
Several buildings in Osh were set on fire
Residents say the shooting continued into Friday morning and that helicopters were flying low overhead.
However, an Interior Ministry spokesman said the shooting had stopped and that the city was now under the control of the security forces.
In an address to the nation, interim President Roza Otunbayeva said mass disorder had been triggered by some small-scale skirmishes, and she called on people to remain calm.
"Dear compatriots, do not yield to provocations," she said.
"I call on you to show restraint, calm down and refrain from any hasty actions which may lead to casualties."
The leaders of Russia and China have also appealed for calm.
In recent weeks, several incidents have prompted fears of inter-ethnic violence between Uzbeks and Kyrgyz.
The country's interior and defence ministers are reportedly travelling to the region.
Mr Bakiyev fled with his family to Belarus after clashes between government forces and protesters on 7 April, which left at least 85 people dead in the Central Asian state.
The violence was the culmination of months of discontent over rising prices and allegations of corruption in Kyrgyzstan, which had been regarded as one of the more progressive states in the region.
The violence has also raised fears of a civil war in the country, where both Russia and the US have military bases.
The interim government has promised to hold elections in October, after a constitutional referendum on reducing presidential powers.