EU WOES: SANUSI WARNS OF FRESH CRISIS IN NIGERIA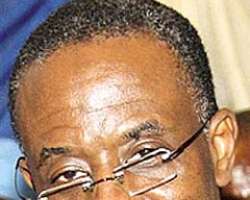 CBN Governor, Lamido Sanusi
The Nigerian economy may be in for further bashing if the lingering financial crisis in Europe impacts negatively on oil price, the Governor of the Central Bank of Nigeria, Mr. Lamido Sanusi, has said.
Sanusi, who spoke exclusively with our correspondent from London on Thursday, said that if oil prices were negatively affected by the crisis, which started with Greece's debt troubles, the country risked a fresh round of revenue and capital market crises.
He added that such crisis at this point in time would impact more on government finances, adding that it was also likely to lead to higher levels of government borrowing and increase in interest rates.
He spoke just as the Head of the Reserve Bank of Australia, Mr. Glenn Stevens, warned countries that 'Europe's financial woes are likely to hit the global economy'.
The British Broadcasting Corporation quoted Stevens as saying on Wednesday that 'the European episode is not yet over, and the issues will continue to need careful handling by all concerned and close monitoring by the rest of us.'
'It cannot be denied that the potential for further turmoil exists,' he warned.
The CBN governor said Europe and other advanced economies were in the fresh crisis because they had been running huge deficits in the years of boom when they should have been building fiscal surpluses.
According to him, 'Now that there is a downturn, they don't have much flexibility. If they try to reduce the deficit, they exacerbate the risk of deeper recession. Then you are back in a classic great depression scenario.'
For Nigeria, he said, 'If there is an impact on oil, we will see a repeat effect on government revenue and on the stock market.'
He, however, noted that the damage on the financial system might not be so hard because the nation had not seen significant inflow of foreign direct investment into the capital market this year.
He said improvement in that sector had been driven by domestic institutions, adding that 'the exposure of banks to the capital market has also been significantly reduced. The banks are not where they were in 2007.'
He noted, 'If the crisis affects oil, it will impact more on government finances and this is likely to lead to higher levels of government borrowing and a possible upward spike in interest rates. We may also see pressure on the reserve level.'
Sanusi, however, said the apex bank remained committed to exchange rate stability, 'so we are not likely to see any rapid depreciation of the local currency in the face of these pressures.'
According to him, providing an anchor for expectation is critical and the preservation of stability is necessary in an environment of uncertainty.
The World Bank on Thursday warned that Europe's debt crisis had created 'hurdles' on the path to economic growth.
The BBC quoted the World Bank's latest report forecast as saying that global Gross Domestic Product would expand by between 2.9 per cent and 3.3 per cent in 2010 and 2011, respectively, then strengthen to between 3.2 per cent and 3.5 per cent in 2012.
The report said prolonged rising government debts could push up the price of credit, denting investment and growth in developing countries.