(Photos) Omotola eventful outing at the S. Leone President's Inauguration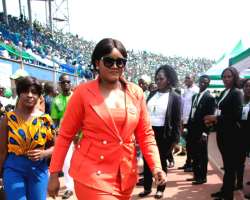 President Bio's inauguration was a fanfare of Heads of states from all over the World, celebrities and a great crowd.
The event went smoothly with a democratic handover from President Koroma to Julius Maada Bio.
Omotola and many others were on hand to witness the successful handover however, the crowd were not ready to allow them leave without their own personal touch and before long, it had turned into an uncontrollable frenzy.
The foremost African actress got so mobbed by the Sierra Leonean fans, she had to be frantically rescued by an army of all security agents.
The actress had her hair pulled, her glasses snatched and was almost stripped.
Omotola literally had to be physically carried at some point but some members of her entourage were not so lucky. Her personal assistant went missing and was later found under the marmot crowd screaming and yelling with her wig snatched.
Omotola and her entourage were eventually reunited, but the fans had lined the streets awaiting her departure. Shaken but appreciative, Omotola On her way out, waved, thankfully to her fans for their show of love.