New Movie Alert! Action Thriller, Oja Okunkun The Movie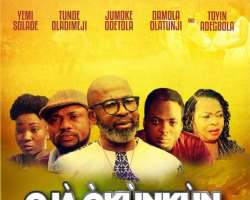 The movie, OJA OKUNKUN tows the line of quintessential classic detective mystery movies that keeps you glued to the screen. It tells the story of Yele a down on his luck ex-detective played by Tunde Oladimeji who becomes the prime suspect in a murder that soon turns serial.
Damola Olatunji plays the lead detective of the special homicide branch that must race against the ticking clock to bring these murders to a stop...The movie also features veteran Yemi Solade in a beautiful performance and Toyin Adegbola. ..also award winning actress Jumoke Odetola completes the pack as a lawyer turned journalist who is also interested in the case.
The movie boasts of stunning visuals beautiful direction and fantastic acting.
WATCH THE MOVIE BELOW