Bishop Oyedepo fires back at Erelu Agbaye, says allegation of occultism amounts to blasphemy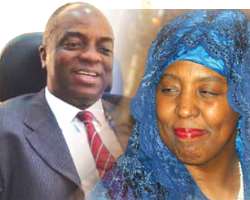 It was far into the night at the Living Faith Church, Ota, Ogun State penultimate Friday as the presiding bishop, David Oyedepo, delivered a lecture on empowerment to an attentive audience. The session provided the bishop an opportunity to address an issue that has raised a lot of dust in the fold of Christians lately.
A woman named Dorcas Bolatito Oluwatimilehin, a.k.a Erelu Agbaye, had recently boasted that she wielded a lot of occult powers from which many religious leaders, including Bishop Oyedepo, had profited. The declaration had sent tongues wagging, with many challenging the religious leaders that were named by Erelu Agbaye to come out and clear their names.
The session on empowerment, however, gave the bishop an opportunity to deny any link to occultism. In apparent response to Erelu Agbaye's claim, Oyedepo thundered in front of the attentive congregation, "There is no satanic institution that can confront me to say that I share anything with them. I challenge them to do so. The anointing on this altar is one of the landmark events of this generation. That is why some fellows say that they gave me power. I curse that blasphemy. I command that tongue to seize forever.
Oyedepo, who is also the Chancellor of Covenant University, continued, "Every time they see something working in this part of the world, they say it is charm. The Holy Spirit is the greatest charm that I know, and that is what I am using. I operate only from this platform, except you would be deceived."
The decision of the fiery faith preacher to react to the issue came as a surprise to many in the congregation, because his approach in the past had been to ignore such allegations. A lot of them reckoned that Oyedepo, who oversees a congregation of more than 50,000 worshippers in Canaanland, rarely reacts to negative reports about him, wondering why he attached so much importance to Erelu Agbaye's allegation.
"Not even the regularly televised attacks on his person and work from co-preachers like Pastor Tunde Bakare of The Latter Rain Assembly, Lagos, and Pastor Chris Oyakhilome of the Christ Embassy in about two decades of the ministry's relocation to Lagos had moved him into making a direct pronouncement," a source close to the clergy wondered. "Only recently, Pastor Bakare literally tore one of his books apart during one of his sermons on the television. But his stand for more than two decades had been never to reply to such accusations or castigations."
The End Time Journal, a Lagos-based soft-sell magazine had published the story in which Erelu Agbaye challenged Oyedepo to deny her claim that she was the one that had been empowering him spiritually, threatening to reveal more about the issue if Oyedepo denied it. "Of all the people I have mentioned, only one of them is no more, and that is Abacha, Erelu Agbaye had said. "I, therefore, challenge any of them who thinks I am lying to make a public denial and I will reveal more of their atrocities."
Our correspondent gathered that before Erelu's pronouncement was published in the journal, the story had circulated in a video CD that detailed her claims. More copies of the said journal, which has Oyedepo's picture on the cover, were circulated at a programme held at the Tafawa Balewa Square in Lagos about two weeks ago to pray for Nigeria's golden jubilee anniversary. The vendors must have seen the programme as a good opportunity to market the publication, since it was hosted by Oyedepo and the General Overseer of the Redeemed Christian Church, Pastor Enoch Adeboye. Expectedly, curious worshippers drawn from different denominations patronised the vendors in large numbers.
But the VCD, Saturday Punch learnt, originated from Kwara State where Oyedepo hails from, and contains more shocking information than was reported in the journal. Also mentioned in the VCD are names of notable musicians like Yinka Ayefele, Ayinla Kollington, Sikiru Ayinde Barrister and King Sunny Ade.
The VCD, which was originally a product of a religious forum held in May 2009 at Odo Okun, Saw Mill, Ilorin, Kwara State, later became a commercial commodity, contrary to the intention of the organisers of the event.
Erelu Agbaye, who claimed to have renounced occultism herself, said she had met Oyedepo and others while she was in the cult and given them the power to succeed. But because she had renounced occultism and would now prefer to be called Erelu Jesu, she decided to make public their escapades.
Erelu claimed she was at Oyedepo's church to demand for a certain article of power she had given to him, but he allegedly refused to part with it, offering instead to pay her millions of naira, after which he would pay her N250,000 monthly as salary if she would keep the secret. She claimed that she declined the alleged offer.