OLU MAINTAIN, KENTRO WORLD ARE TWO SEPARATE BRANDS- FOLARIN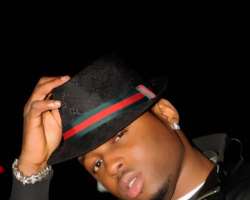 Folarin is one of the guys who sings alongside the self-acclaimed king of hip-hop, Olumide Adegbulu a.k.a. Mr. Olu Maintain. The young dude who joined Olu Maintain shortly after his Yahoozee's hit album in London recently had a chat with Alonge Michael of www.nollywoodgists.com where he confirms to us that the band, Kentro World, is no more under the supervision of Olu Maintain, the reason is that, the foormidable team led by Folarin has since opened a new chapter of the band totally deleting Olu Maintain's name as a partaker.
How are you bruv?
I' m good boss
What's the situation of things between Olu Maintain and the new Kentro World we learnt you just inaugurated?
We are cool. The situation is under control. We thank God for that.
The rumour in town is that Olu Maintain has been excommunicated from the band, Kentro World, how true is this?
We guys are just working on our own new project. The team is still as solid as ever
What is the relationship like with Olu and the entire band now?
There is no incommunicado. I brought Puffy Tee back to the band, took him to London to work with us for our new project. Kentro World and Olu Maintain are two separate brands
So, what is Olu now doing about that?
I don't know Olu's position on that but as far as am concerned he didn't react in anyway
Are you people aware of the consequences of your action. Is the brand not registered by Mr. Olu Maintain?
Not at all. We all have the right to that name just like the old Maintain group. Wasn't big Bamo in charge then? He won't do that. Even when will made our intention known he just told us 'nice one'.
Don't u think he might react legally in future being the principal owner of the brand- Kentro?
When Olu decided to do his thing he did. My brother, Kentro is a brand we all built together, though Olu was the founder and he will forever remain so.
What actually happened? I hear that he sidelined you guys in so many ways. Is it true?
I may not comment on that but all I know is that every book has a chapter but life goes on.
He still remains the founder, right? How can you beat that?
Yes, he's still the founder and all credits would be given to him for giving life to Kentro but every book has a chapter like I earlier said. Kentro World is ready to show Naija what we've got.
Takerewa that u all did together, I swear, beat even Yahoozee that got him all the attention but Olu's attitude towards people killed the dream of that beautiful album. True or false?
Everybody says this but he's a changed man now.
A changed man indeed: Can leopard change the spots on its skin?
He has actually changed for real.
In a straight forward answer; who has the right to a song?
Every song an artist records, the artist has full rights to the song and of course the producer depending on the kind of arrangement between the two of them.
Fine! So, Kentro world is now solely run by, Fola, Bondo, Puffy and who else?
Puff Tee is the head producer; the artistes are Bondo, Da Fols, Freaky T and I, Folarin. This new formidable guys are going into the real show business. We intend to even sign a publishing right with an international label and other areas of entertainment.

Who is Da Fols, a new member?
No, he was on Yahoozee remix he was in the University in London through with studies now and ready to move to Lagos fully.
Why did you bring Puffy Tee back?
I believe everyone that has worked hard should be rewarded that is why Puffy Tee was brought back
Who is your tailor in Nigeria? That black Trousers you wore yesterday looked so cool on youl.
Well, my cousin abbey aka steel of Yes records sews for me but I buy most of my cloths abroad. Steel is my buddy and the guy is extremely talented.
So, what do we expect from the New Kentro Crew now?
Already we have recorded 13 songs we are still working o, we hope to shoot videos soon
in Nigeria first and then the rest of the world later. South Africa, London and America.
When is it slated to be out; I mean your promo songs?
Next week we would start releasing