Dj Sose Turned The Big Brother 'double Wahala" House Upside Down.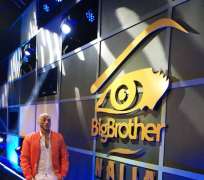 On Saturday 17th, March 2018, DJ Sose was welcomed into the Big Brother Naija house as he played hit tunes for the live party. DJ Sose joined the housemates as he also followed the Away from Africa themed party, wearing a Gold kaftan styled outfit with flared trousers designed by South African fashion designer David Tlale and was styled by Nigerian Celebrity Stylist Swanky Jerry.
The housemates partied extra hard as DJ Sose played Nigerian hit after hit. Not only did he play a mix of present and throwback songs, he shocked the house with his vibrant dance moves giving the housemates even more reason to showcase their steps.
The highlight of the night was when DJ Sose surprised the housemates with the remix of Mr. Real's 'Legbegbe' which included each house members name in the song.
Other highlights of the night:
DJ Sose played housemate Rico Swavey's song 'Ya Body' featuring Akeens. DJ Sose played Teddy A's "Pepper" featuring Phyno.
#DJSOSE was trending on Twitter for several hours after his set on Big Brother Naija.
DJ Sose played current hit songs that had the housemates intrigued and wondering who the artist was.
DJ Sose was able to keep up with the housemates' dances as they performed some of the moves they created in the Big Brother Naija house.
DJ Sose returned to the Big Brother Studio on Sunday 18th, March 2018 to the Live Eviction show. He made sure to give the live studio audience the opportunity to party it up like the housemates did.
He kept his style simple and to a minimum wearing all white with an orange bomber jacket top it off, styled by Nigerian Celebrity Stylist Swanky Jerry.
The DJ took to his Instagram page to say a big thank you to God, Big Brother Naija, his family and all of Africa for giving him the opportunity to showcase his talent.