Orezi And Tekno In Whine For Daddy Video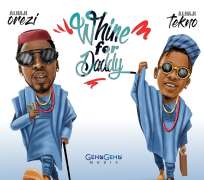 Orezi releases the video to 'Whine for Daddy' his first single of 2018 featuring Tekno. The video comes after the official unveiling of his new venture Gehn Gehn Music, an entertainment company.
The video directed by Paul Gambit was shot in Lagos. The music video has a colourful and warm background also features singer and actress Kora Obidi as the leading lady dancing to the rhythmic flow from Orezi and Tekno.
Song Link: https://youtu.be/g2QjyvIjLPg
ABOUT OREZI
Esegine Orezi Allen is a Nigerian Afro hip hop, Dancehall and Reggae recording artiste currently signed to Sprisal Entertainment. Born and raised in Isoko Delta State, he grew up with his family and is the first of five children.
Orezi graduated from the University of Lagos with a degree in Urban and Regional planning and majored in Landscape Architecture. In 2009 Orezi kick started his music career with the release of his first single titled 'I no fit lie' and this has made him work with some of Nigeria's top music producers. It later became Radio Continental's theme song. Afterwards, he headlined a show named after the song. In 2010, he released 'High BP' then subsequently released 'Jamilaya' and both songs got great reviews.
Orezi released his fourth single 'Booty bounce' and it climbed up the top ten African chart on Trace Urban, Channel O and MTV. The success of his single 'Booty Bounce' earned Orezi a nomination in the Reggae/Dancehall category at the Channel O Music Video Awards 2012. Orezi has performed at major concerts and tours, including Emoti tour, Star Trek musical concert tour 2010, Trace Urban tour and Nigeria's 50th Independence Anniversary celebration.
In 2014, Orezi released another single "Shoki" as well as the music video for his song 'You Garrit'. Orezi debut album' GhenGhen' was released in 2015 and it featured high profile Nigerian artistes Wizkid, Davido, Flavour, M.i Abaga, Timaya, 9ice and Ice Prince. The album had 21 songs including his mega hit songs 'Rihanna', Shoki, Ogede and Shuperu.
The success of these singles earned Orezi various awards including Best new act Unilag Awards, Best Club Banger Abuja Meritorious Music Award (AMMA), Best Reggae and Dancehall Artist Nigeria Music Video Awards ( NMVA ), Best Reggae and Dancehall Artiste South Side Music Awards ( SSMA ). He also has various nominations including Best Reggae Dancehall SongHeadies2013, Reggae/Dancehall song Channel O Music Video Awards, Dancehall Reggae act of the year City People Entertainment Awards and Best new act of the year Nigeria Entertainment Awards.
Following his 2015 'GhenGhen' album, Orezi released a controversial artwork for his song Call the police. Despite the backlash, the video was eventually released in 2016 and received rave reviews.
In 2017, Orezi carved a niche for himself with the afro beat sound in his song 'Cooking Pot' produced by TymG shot by Adasa. The song and video channeled Afro beat Legend FelaAnikulapoKutiand addressed social vices like Alcoholism, Rape, Domestic Violence and advocates for consensual sex.The video has now been nominated for Best video AFRIMA 2017.
Orezi's pace and consistency in the music scene has kept his relevance and net worth growing at a spontaneous rate.
SOCIAL MEDIA
TWITTER - @oreziworldwide
INSTAGRAM- @oreziworldwide
YOUTUBE- OreziWorldwide
For press and media inquiries, please contact:
SOCIAL MEDIA
TWITTER: @bukihqmedia
INSTAGRAM: @bukihqmedia
FACEBOOK: @BukiHQ Media