Chef Tiyan Is Elegant, Vibrant And A Master Of Culinary Arts In The Latest Issue Of The Guardian Life.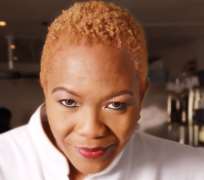 Chef Tiyan Alile is a master of culinary arts but there is more to the elegant and vibrant chef's culinary skills which she elaborates in the latest Issue of The Guardian Life.
In the exclusive interview, she gives readers the opportunity to explore her life inside and outside the kitchen. Chef Tiyan Alile is the founder of the Culinary Academy of Nigeria, Chef Patron of Tarragon Restaurant and Convener of the African Young Chef Competition.
Here are some selected excerpts from the interview...
5 things you do every morning?
"I get out of bed, I do Yoga, I listen to music, I dance naked in my room....I think about ...the day".
If you had 5 million dollars, how would you spend it?
"I would build a school and I would train people for free".
Enjoy more insight into the life of Chef Tiyan by getting a copy of The Guardian Life in today's edition of The Guardian.
Creative Team
Creative Direction: Chidera Muoka- @themadamezeta
Photography: Jerrie Rotimi- @jerrie_rotimi
Styling: Nkem Okorafor- @nkemokorafor
Make-up: Jumoke Tychus for Eyesome Beauty- @eyesome_beauty
ABOUT TIYAN ALILE
Tiyan Alile is the current President of The Culinary Arts Practitioners Association in
Nigeria, the founder and promoter of Culinary Academy and the Executive Chef of
Tarragon, a fine dining restaurant and wine club. Her objective is to change and improve
the standard of Culinary Arts Education and Culinary awareness globally. With corporate
Law consultancy background, her managerial experience is brought to the forefront of achieving her set objectives. Armed with the slogan "Where Great Minds Create Great
Food" Tiyan Alile believes she is capable of teaching anyone to create great food. She works with the principle that we create with our minds and interpret with our hands so she taps into the residual creativity in everyone's mind and translates it to great food in the kitchen.
From the four walls of her mother's kitchen, Tiyan Alile's chef life began with many culinary experiments, she went on to set up Tea Time Cakes in 1993 selling cupcakes in Secondary School, she later on set up Tees Hot Bites, a flaming Barbecue Grill at the Ibadan Golf Club with a super hit secret barbecue sauce recipe, She moved on to Matchsticks which is a concept that made Nigerian food in a refined modernist fusion style.
She founded the Culinary Academy, a pedestal from where she is changing the palate and food lifestyle of many. At the Culinary Academy she teaches Diploma Students in Culinary and Pastry Arts as well as Front of House Management and from a lifestyle perspective she teaches themed recreational cooking classes; engaging food enthusiasts and epicureans on a tasteful culinary journey.
Tiyan has been involved in planning a number of events in the hospitality space and delivering masterclasses at the Fiesta of Flavours Food Fairs, the GTBank Food and
Drink fair, the Mzansi Culinary Festival (SA) and now she has birthed her brain
Child- the African Young Chefs' Competition which is a Pan African annual event giving Young African Chefs a platform to express their skill and creativity as well as a platform of learning and capacity building.
Tiyan has recently published her first cookbook, "Tale in a Pie" and when Tiyan is not
stirring a pot or penning her thoughts she can be found in silence practicing yoga, tapping her feet to jazz, doing humanitarian work with the Rotary Club or scoring a hole in one on the golf course.
SOCIAL MEDIA
TWITTER: @tiyanalile
INSTAGRAM: @tiyanalile
FACEBOOK: Tiyan Alile-Uwaosabun