WOMEN ARE THE BIG WINNERS OF A DOZEN US PRIMARIES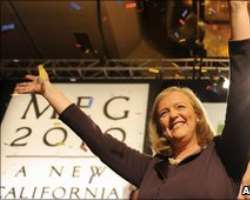 Former eBay head Meg Whitman could be California's first female governor
Female candidates have been the big winners in a dozen US primaries, where voters have been picking Democratic and Republican candidates for November's mid-term elections.
In California, two former company bosses, Meg Whitman, of eBay, and Carly Fiorina, of Hewlett-Packard, won the Republican nominations for state governor and US senator respectively.
And Democratic Senator Blanche Lincoln won a high-profile battle in Arkansas, confounding pundits who said she would lose amid anti-incumbent feeling.
The November polls are expected to trim the majorities in Congress held by President Obama's Democratic Party.
Tea Party
The busiest night of the primary calendar saw candidates being chosen to run for seats in the Senate, the House of Representatives and a number of governorships.
In the Democratic race in Arkansas, two-term Senator Lincoln narrowly defeated Lt Gov Bill Halter.
In California, Ms Whitman will be the Republican candidate to replace Governor Arnold Schwarzenegger, setting up a contest against former Democratic Governor Jerry Brown.
Ms Whitman – a billionaire who spent $70m (£48m) of her own money on her campaign – is the first woman nominated for governor by California's Republican Party.
Ms Fiorina will be the state's Republican candidate to challenge Democratic Senator Barbara Boxer in November.
In Nevada, Republicans chose ultra-conservative Sharron Angle as their mid-term candidate to face Senate Majority Leader Harry Reid, a Democrat whose popularity in his home state has nosedived.
A former teacher, she was endorsed by the Tea Party movement of grass-roots conservatives, which has expressed anger about the deficit and the Washington establishment.
She leap-frogged one-time favourite Sue Lowden, a casino owner, who was ridiculed for suggesting cash-strapped consumers use chickens to barter over their health bill, like in the "olden days".
But some pundits have said Ms Angle's candidacy could hand Mr Reid a lifeline, as the state is considered unlikely in a general election to opt for a very conservative candidate.
Also in Nevada, Republican governor Jim Gibbons lost his renomination bid after a term marked by a messy divorce.
Racial slur
Another Tea Party favourite, South Carolina Republican Nikki Haley – campaigning to be the state's first female governor – won a place in a run-off vote. She was endorsed by former vice-presidential candidate Sarah Palin.
Ms Haley brushed off unproven claims of two extra-marital affairs – in a state where Republican incumbent Mark Sanford's marriage ended after he admitted a clandestine trip to Argentina to meet a mistress.
The race turned ugly when Ms Haley – the daughter of Indian-Sikh immigrants – was labelled a "raghead" by an opponent's backer.
The BBC's Steve Kingstone, in Washington, says although this primary season has claimed some high-profile incumbents, the vast majority of sitting lawmakers have survived to fight on.
The November mid-term elections will be viewed by many as a referendum on Mr Obama's presidency.
Analysts say the possibility of the Democratic Party losing control of one or both houses of Congress cannot be ruled out.
The Democrats currently control 59 seats in the Senate (including two seats held by independents) and have a majority of some 40 seats in the House of Representatives.
In November, all 435 House seats are up for election as well as about a third of the Senate's 100 seats.