Where is your Husband?-Banky W Asks Pocknosing Lady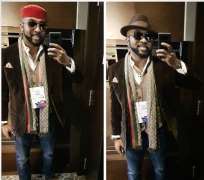 Popular musician and business man, Bankole Wellington has swept people off their feet with the response he gave, following a question comment on one of his pictures on Instagram.
The musician posted a picture of himself requesting suggestions on what colour of cap to match with his dress and a lady, rather than suggest, asked where his wedding ring was.
Trust our able musician and married man who does not take nonsense, he simply replied "Where is your husband?"
Obviously she got what she deserved because he never asked anyone to assess him but help him pick a suitable cap for his dress.