New Movie Alert: "In A Strange Land" Battling Modern Day Slavery Slated For Cinema Release!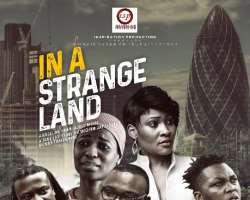 The movie 'In A Strange land' produced by Roseline Sanni-Ajose ("RSA") has been slated for release across Nigerian cinemas from March 2nd 2018. Sequel to the successful premieres of the movie in London and Lagos, the high flying UK based Nollywood star with a plethora of International Awards in her kitty unveils the thematic content revolving around modern day slavery (Human trafficking) in this awesome movie.
In a strange land is based on a true story and tells of a young lady trafficked from Nigeria to England for domestic servitude to a working class family. She is elated at the prospects of having a better life in the UK but things don't go as planned. Dictatorial laws are set forbidding her from having contact with the outside world followed swiftly by the oppression, molestation, emotional torture and cruel beatings. She fears for her life and the Post man whom she secretly communicates with through the letter box slot suspects foul play, a case of Human trafficking and urges her to run away and report to the police. Things are however complicated, she's there illegally, and there's the fear of deportation/ imprisonment, her employers would get into trouble with the Law and there's her poor family back in Nigeria depending on her earnings and rooting for her to deliver them from the poverty stricken state. She finally makes a decision that sets her on course for the unexpected!
The movie parades UK based actors and actresses with a high pedigree in the Industry; Ngozi Thompson- Igwebike, Roseline Sanni-Ajose, Toyin Moore, Sam Obiago, Larry King, William Kemeh, Judith Chukwu, MA Benson, Kevwe Ogunje and veteran Lucien Morgan (Internationally known for American Werewolf in London(81), Futures (2015), The Don (2016) among others. It was directed by Teri Ekuerahare and co-produced by William Kemeh.
The discovery of modern day slavery in Libya shook the world and puts a seal on this emotionally gripping tale told with delicate sophistication blended with suspense as it unravels the turbulent waves people in the quest for a better life outside the shores of their countries forcefully battle against in a bid to survive. "RSA" who is also the producer of the hit movie Labo: Life is a journey, believes that In A Strange Land serves to create/strengthen awareness of the problem, the consequences of perpetuating such acts and how to end the crime in various countries.
ROSELINE SANNI-AJOSE
Her movie caught the attention of the BBC World Service and she was recently interviewed on The Newsday programme segment, which is the biggest breakfast show on the platform reaching a global audience of 280 million adults in Africa and around the world. She is optimistic that the clarion call to fight the menace will be heeded by many in the country and around the world.
In A Strange land was sponsored by Portsmouth University (Film Department), powered by Roseline Sanni Ajose's 'Inspiration Production' and is being distributed by Metro Classic Pictures. It will be released in cinemas across Nigeria from March 2nd 2018.
Watch Trailer Below: