EKITI WORKERS PROTEST, INVADE GOVERNOR'S OFFICE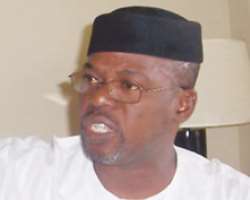 Ekiti State Governor, Mr. Segun Oni
Workers in Ekiti State on Tuesday staged a public protest over the hike in the interests on the loans they have obtained.
The workers numbering thousands, were led by the state Chairmen of the Nigeria Labour Congress, Mr. Joseph Arogundade; Trade Union Congress, Mr. Kolawole Olaiya; and Chairman, Joint Negotiation Committee, Mrs. F. Oyewole.
The workers, who gathered at the state secretariat at 8am, first protested to the House of Assembly. They left the Assembly and headed for the governor's office to register their anger.
The irate workers invaded the new governor's office, attempted to break the main gate to see Governor Segun Oni, but they were prevented by heavily armed security personnel, made up of policemen, civil defence corps and operatives of the State Security Service.
Armed with placards, the workers, who marched through the major streets in Ado-Ekiti, the state capital, called the governor unprintable names. They accused him of using workers' money to prosecute his case at the election petitions tribunal.
Some of the placards read, ' Segun Oni, withdraw your evil circulars, Segun Oni, Ole, Oni is wicked.'
However, the prompt and professional way the police handled the situation prevented the protesters from becoming violent.
The workers, who did not allow any government official to address them, later stormed the Old Governor's Office, where the Deputy Governor's Office is located. They left when they discovered that Oni was in Abuja.
They marched out of the premises and started to rain curses and abuses on the governor.
Riot policemen barricaded the road leading to the Old Governor's Office, but the protesters, who surged forward, forced the gate open and moved towards the deputy governor's office.
They were again disappointed as the deputy governor was not in his office.
The workers then invaded the Exco Chamber, which is the venue of the monthly meeting of the Ekiti State Council of Obas.
They disrupted the monarchs' meeting and called them unprintable names.
The NLC chairman, Arogundade, who later addressed the workers, asked them to continue supporting the leadership of the union in order to force the governor to rescind his decision.
The Head of Service, Mr. Femi Adewunmi, who spoke with journalists in his office, said negotiation was still ongoing.
Adewumi said,, 'In fact, it has brought an embarrassment to me and I am not happy about it. Protest in the civil service is very rare. Our workers don't normally go on strike although, protest, I believe they know, is one of the legitimate ways of expressing their grievances.'
The Commissioner for Information, Mr. Taiwo Olatubosun, in a statement on Tuesday, appealed to the workers to exercise restraint in their agitation against government reforms of the loan schemes for its workforce.
He alleged that the workers' action was 'politically instigated and extremely in bad faith.'