Actress Yvonne Jegede Fawole: Keep Smiling, it Makes People Wonder What you are up to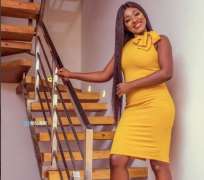 Have you ever wondered what a smile can do to you or help you achieve? Nollywood actress, Yvonne Jegede Fawole has the answer.
Thinking that just a little smile goes a long way to bring out the beauty in you, you should learn to smile always.
The actress has never stopped looking attractive, ravishing, stunning, gorgeous and even takeaway. This is because, when her smile is not the source of her joy, her joy is the source of her smile.
"Sometimes your joy is the source of your smile, but sometimes your smile can be the source of your joy. Keep smiling..it makes people wonder what you are up to," she said.