Wedding Anniversary: Yoruba Actress, Arike Abiodun and Hubby Celebrates Two Years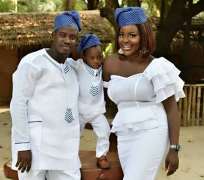 Yoruba actress, Arike Abiodun Best celebrates 2nd year wedding anniversary with son and hubby today as she showers praise on her husband for being a good man and taking care of her.
She is so excited and grateful to God for keeping them this far as marriages are breaking daily. It has only taken the grace of God to keep her family together this long and so, her joy knows no bounds.
In her words, "2years in marriage and it's just like we are still the boyfriend and girlfriend we once were , forever we shall be friends with our kids INSHA ALLAH.....Thanks for loving me just the way I am Honeyboy. Obatoki, you light up our world Son. Feb 20th …………………. Happy Glorious Wedding Anniversary to us baby.. Happy Glorious 2nd Year Wedding Anniversary to us Honeyboy. Thanks for giving me EVERYTHING I ever needed and Prayed for. Thanks for giving me LOVE and FREEDOM to be AWESOME.... Forever ever to go INSHA ALLAH... Indeed Obatoki completes us. No Epistle Honeyboy , I am your babygirl for life."