Koffi (Comedian) Welcomes Baby Number 4, Retires from Donating Sperm to Wife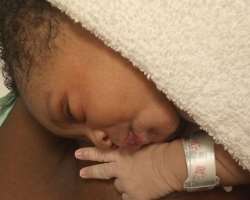 Hurray, it happy times again for comedian, Koffi, as he has just welcomed another baby from his long time better half in a US hospital.
The comedian will filled with joy on seeing the best gift he got for the New Year as he told his fans that he needs to go hustle more for money.
Koffi is already blessed with three children, two girls and a boy. Although, he did not disclose the sex of the child but from look of things, it seems to be a baby boy.
He even stressed that the child will be his last as he is retiring from bearing more children.
According to him, "Finally the last born of the family is here and came with the peace sign. 10:01am Oakbend Medical Center Houston. 7pounds 7, for our Nigerian audience that is 3.5kg. Your prayers worked. Baby is happy. Mum is healthy. Dad needs to recuperate financially 😂. Sex of Kin will not be tellyvized. Keep guessing y'all. #lastborn #finalbustop #happyfam #GodIsgood
#bestmomever #nomorekids #weareretiring ."