Moyo Lawal on Fire with Near 'Nude' Photos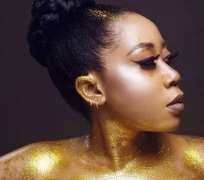 Nollywood actress, Moyo Lawal, is really pushing herself beyond imagination and she is gradually being known as that one actress that likes taking on very daring roles.
Recently, she was seen posing inside a casket as part of her movie role which is still in production and now, she has decided to support an industry colleague, Mimi, who just launched her makeup line.
Moyo in a bid to help promote the product had to pose near nude which has really gotten her fans complaining about the extent she goes at interpreting whatever role she is given.
Hmm, what is your take on this outfit because some see it as something wrong while others feel it is okay.