ZAMFARA TRAGEDY: AC WANTS FG TO STOP ILLEGAL MINERS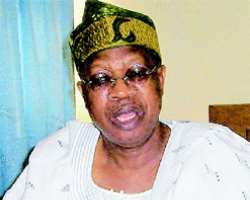 Alhaji Lai Mohammed
The Action Congress on Monday urged the Federal Government to clamp down on the activities of illegal miners in the country, following reports that as many as 300 people had died in five communities in Zamfara State in the past three months.
They were said to have died from lead poisoning as a result of illegal mining activities.
The party, in a statement issued by its National Publicity Secretary, Alhaji Lai Mohammed, also asked the Federal Government to move quickly to complement the efforts of the Zamfara State Government in providing medical assistance to those who had been made sick by the illegal mining activities.
AC also called on government to help the affected communities to restore their devastated environment.
It said based on reports that powerful Nigerians were behind the illegal mining activities; the government would need a strong political will to stop such illegal activities.
The party said, 'Clamping down on these illegal miners is the right thing to do, irrespective of who is behind them, because of the devastating impact of their illegal mining activities on the human beings as well as the environment.
'In the five affected communities in Zamfara, according to media reports, sources of potable water have been contaminated by lead, leading to the death of people and animals, while the environment has been massively degraded by the activities of the miners.
'But, the most devastating effect is the fact that the level of lead poisoning among children in the communities has been found to be unusually high, meaning that the children – if they survive – will be subjected to a life of pain and mental retardation.
'No government that is worth its salt will allow the lives of its future leaders to be so wantonly ruined by unscrupulous people.'
It said while the media had focused on the communities in Zamfara because of the high number of deaths in the affected communities, illegal mining was not restricted to the state.